Regular price
Sale price
$35.00 USD
Unit price
per
Sale
Sold out
Create the perfect look for your home with this colorful fair trade repurposed Round Throw. Available in 2 dimensions.

Each piece is unique and handmade by our women, so your product will resemble the image shown but have its own unique color palette.
 Dimensions: Large

⌀ 

40 inches, Small 

⌀ 

23.5inches
 Weight: 790.00 Grams, 430.00 Grams
 Materials: Recycled Fabrics and Cotton
View full details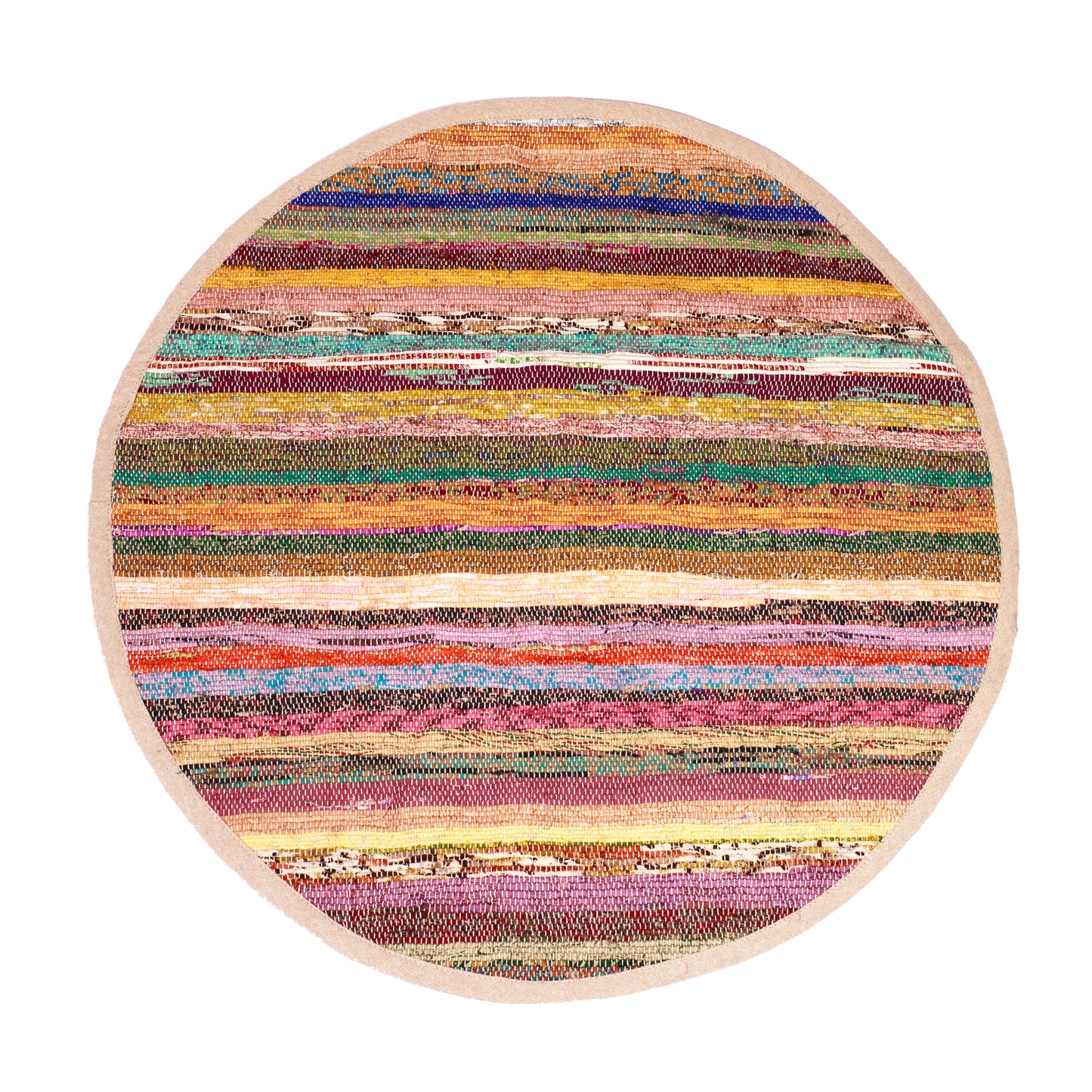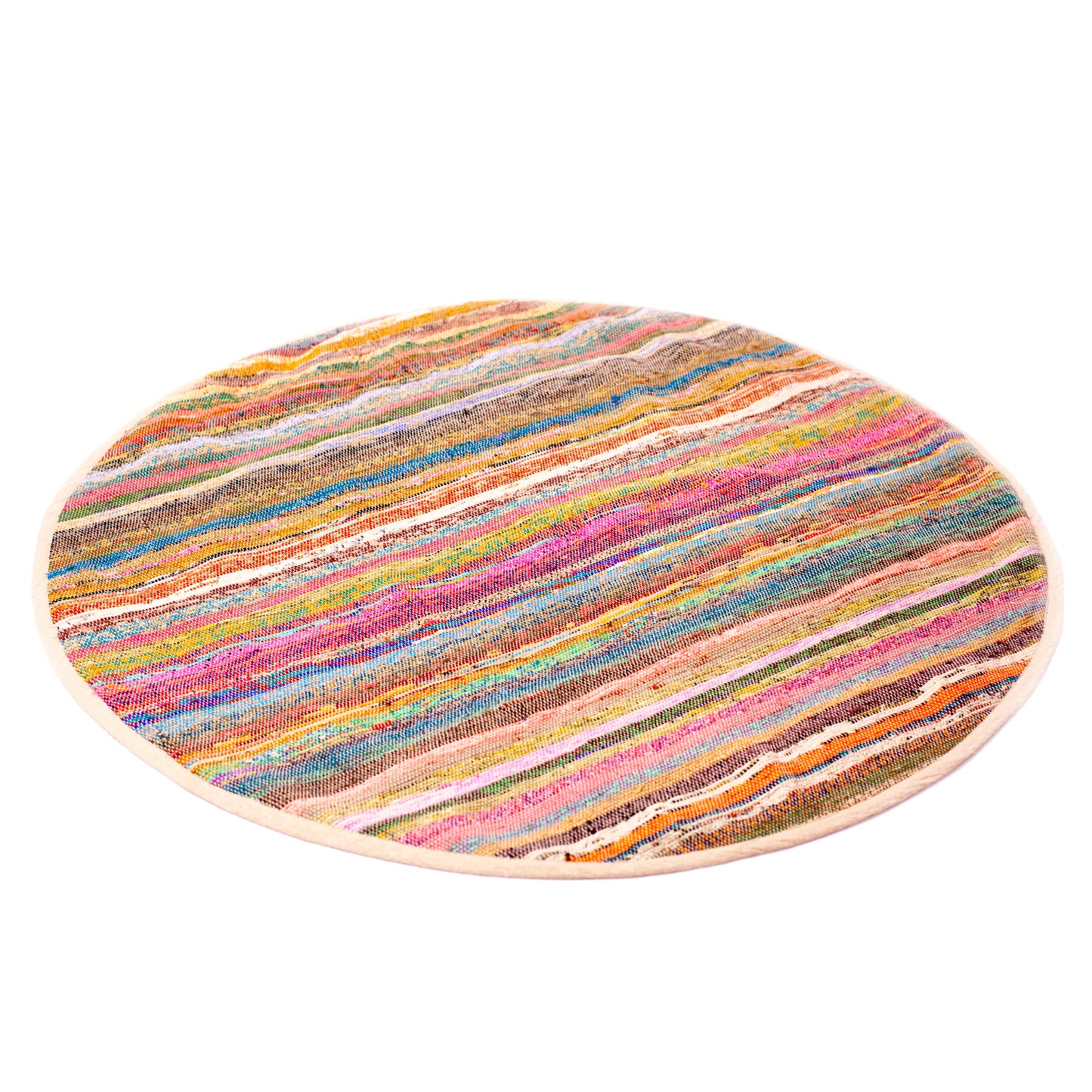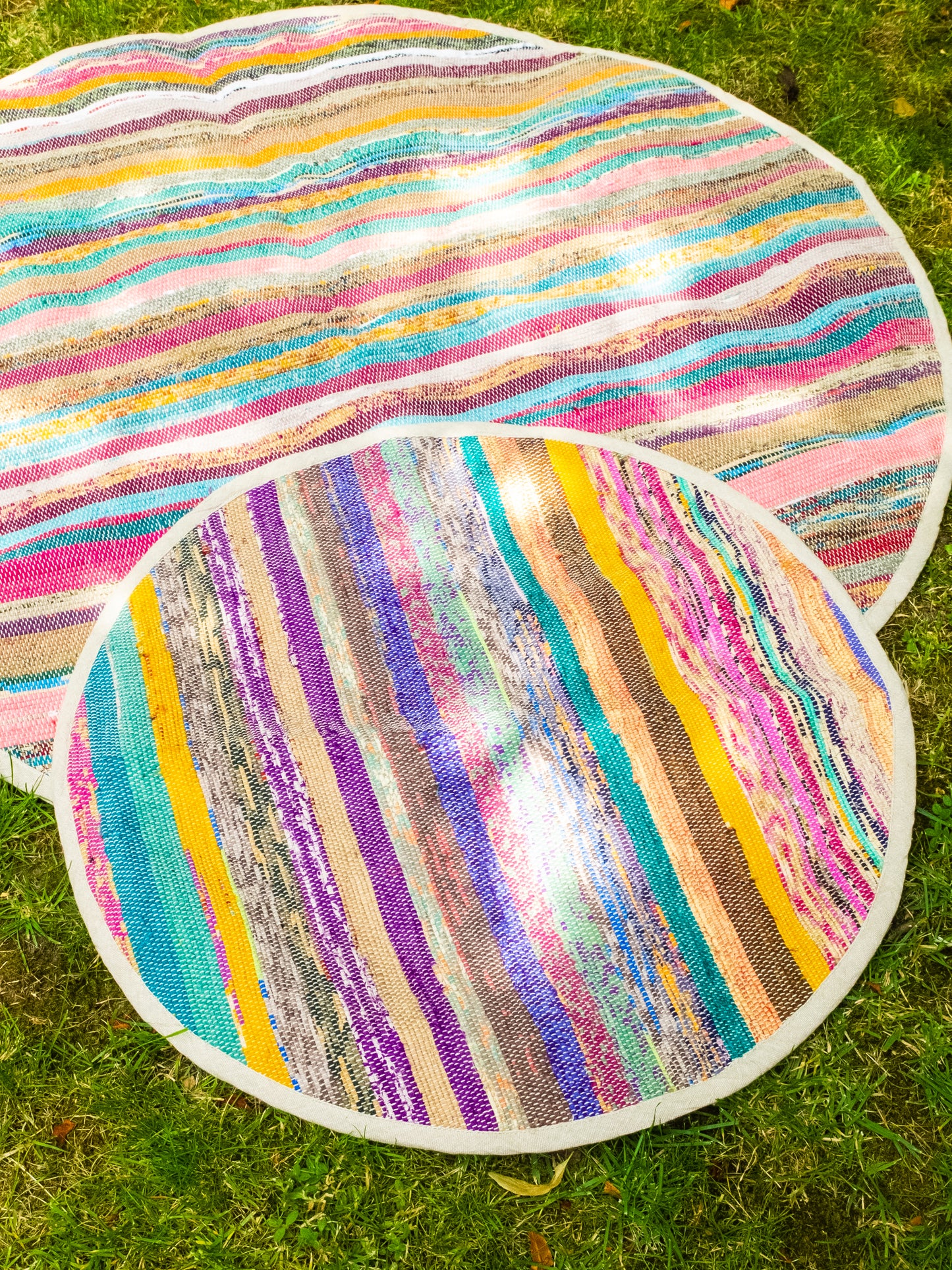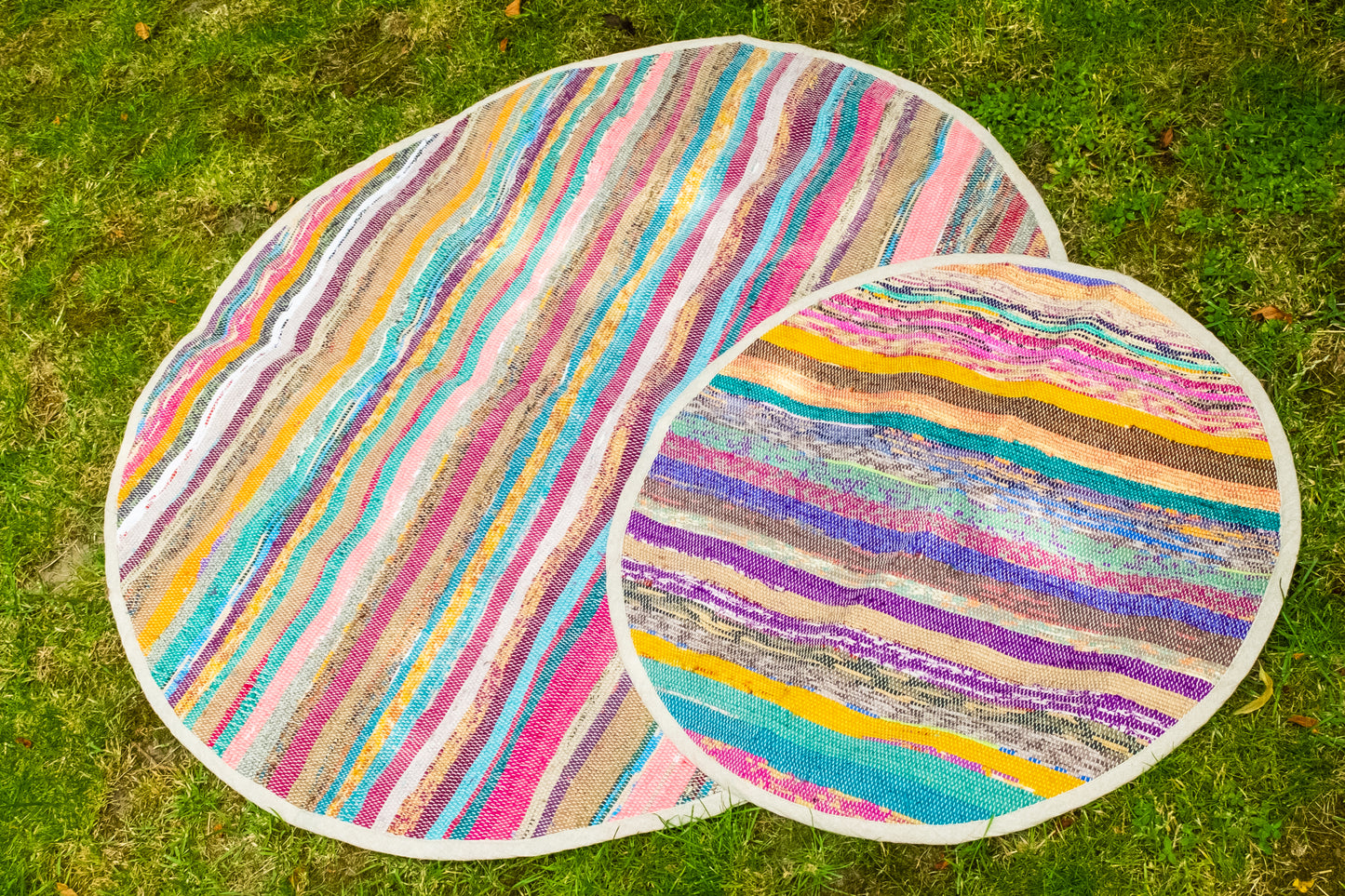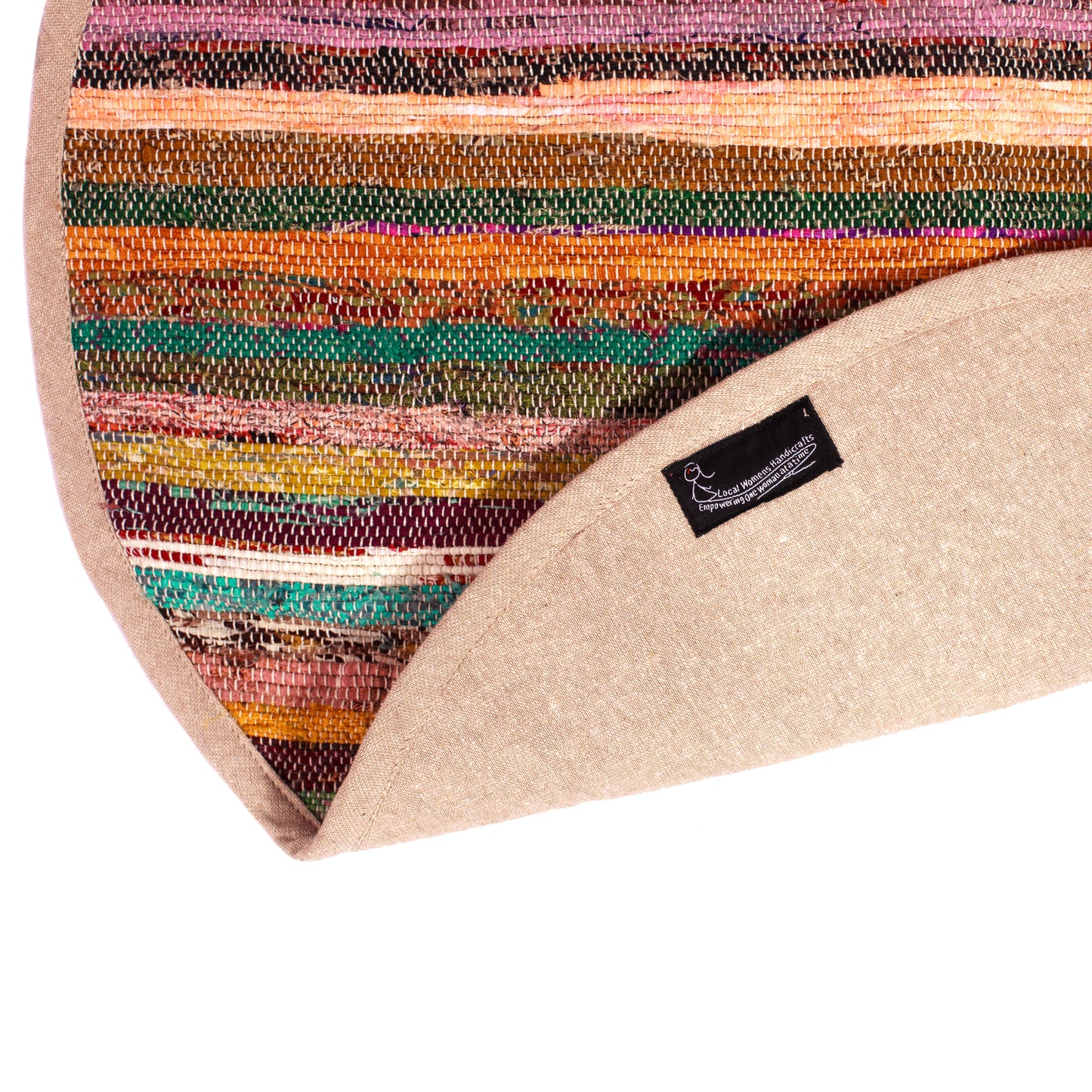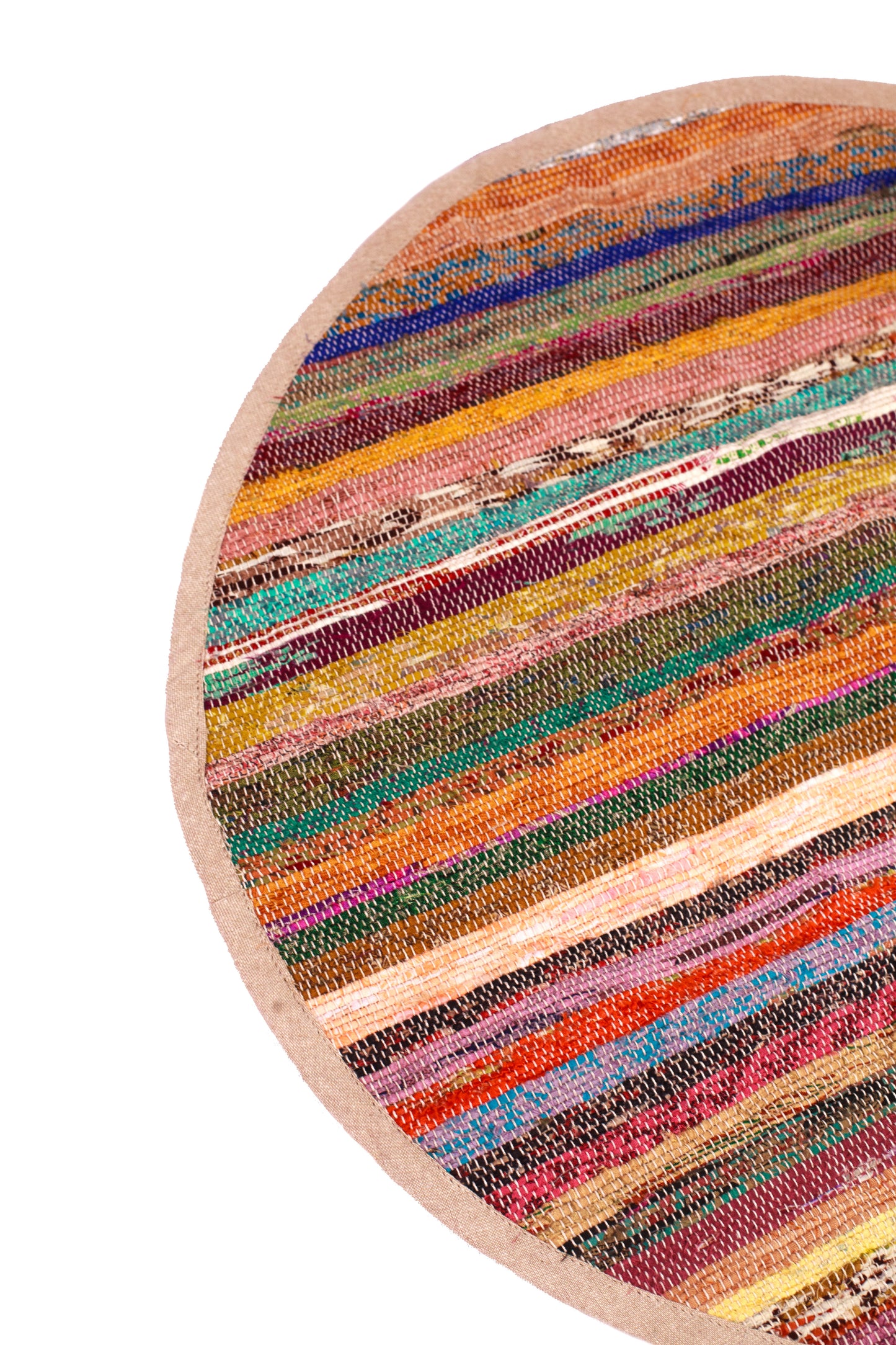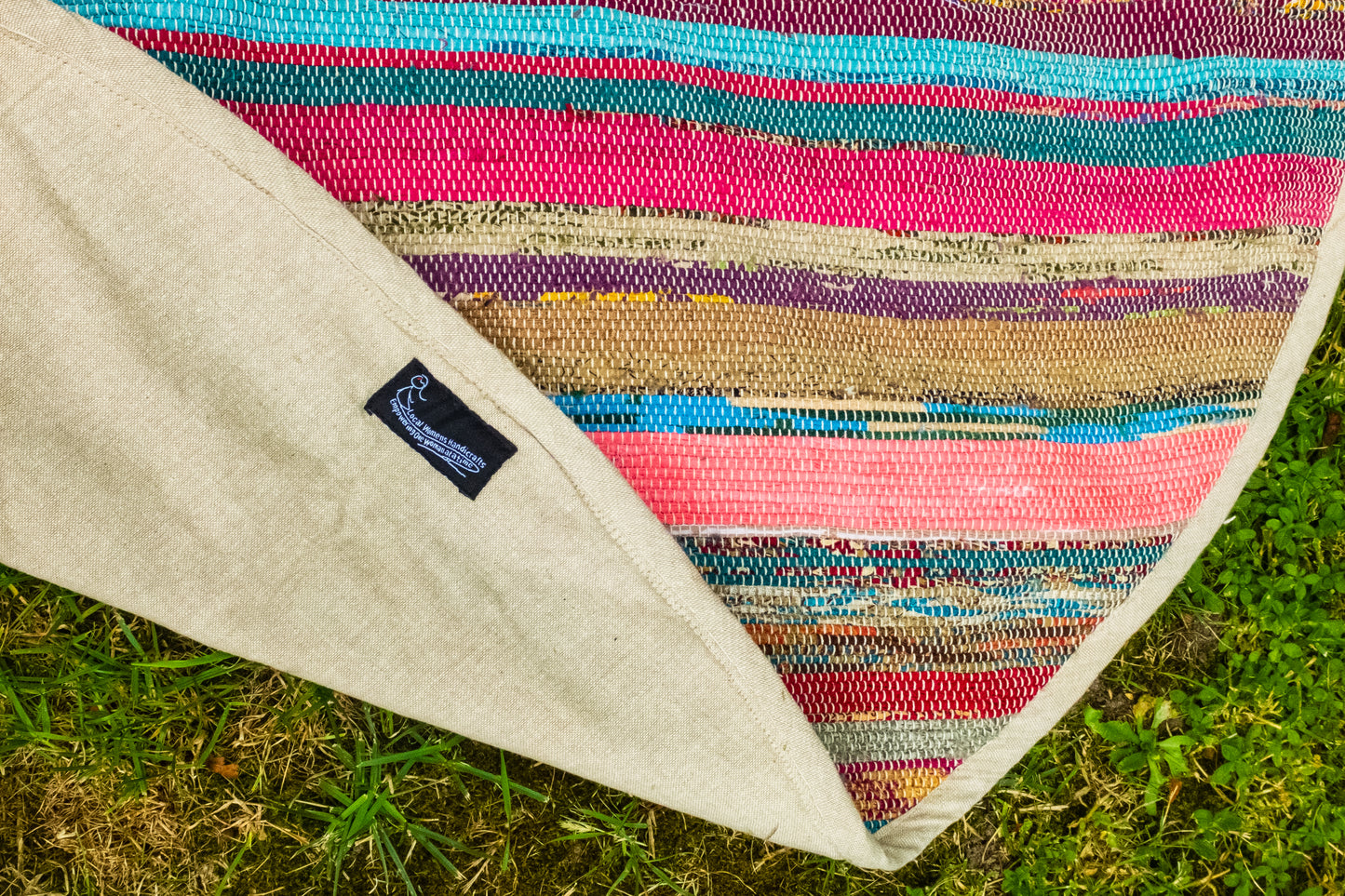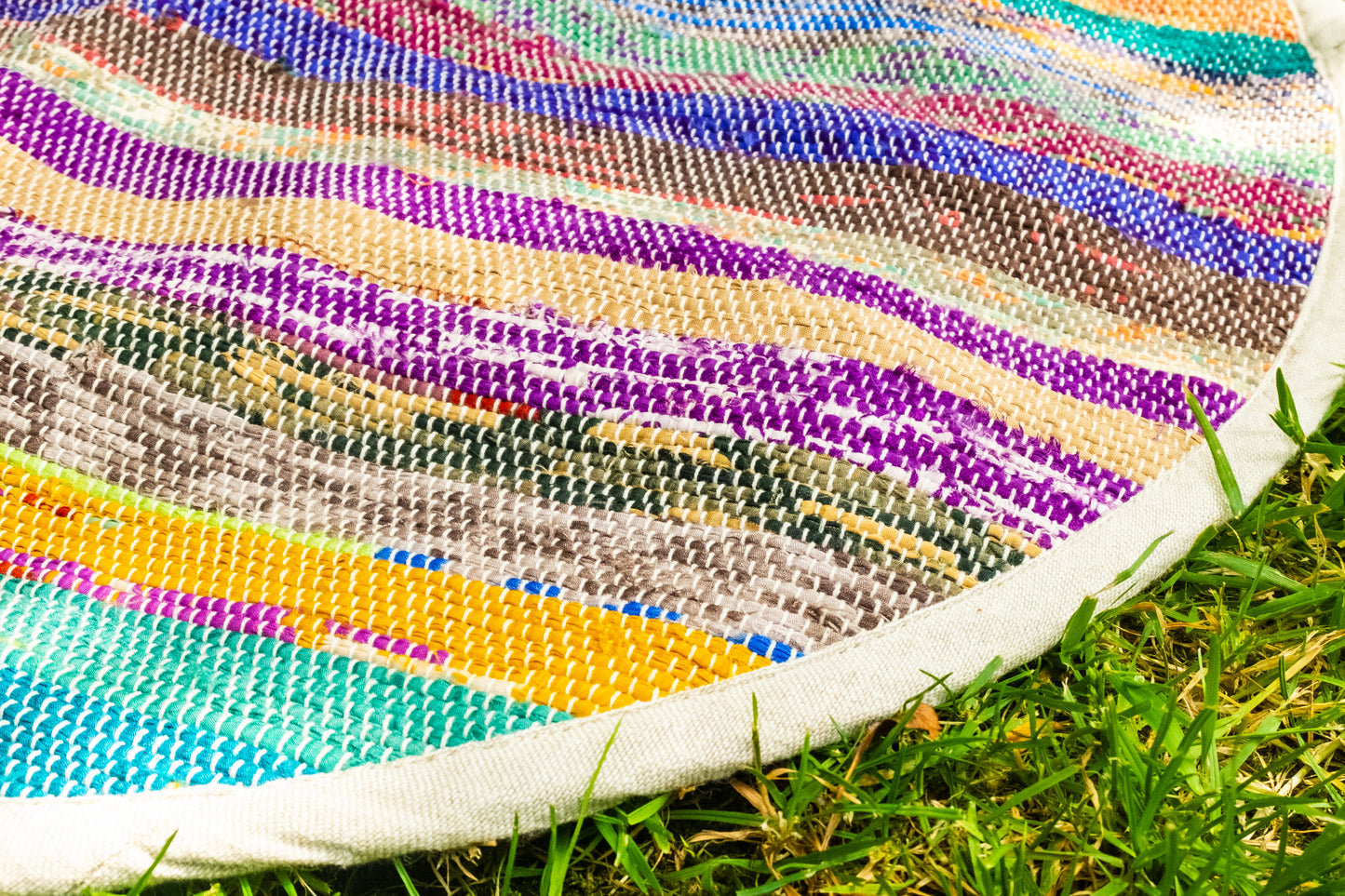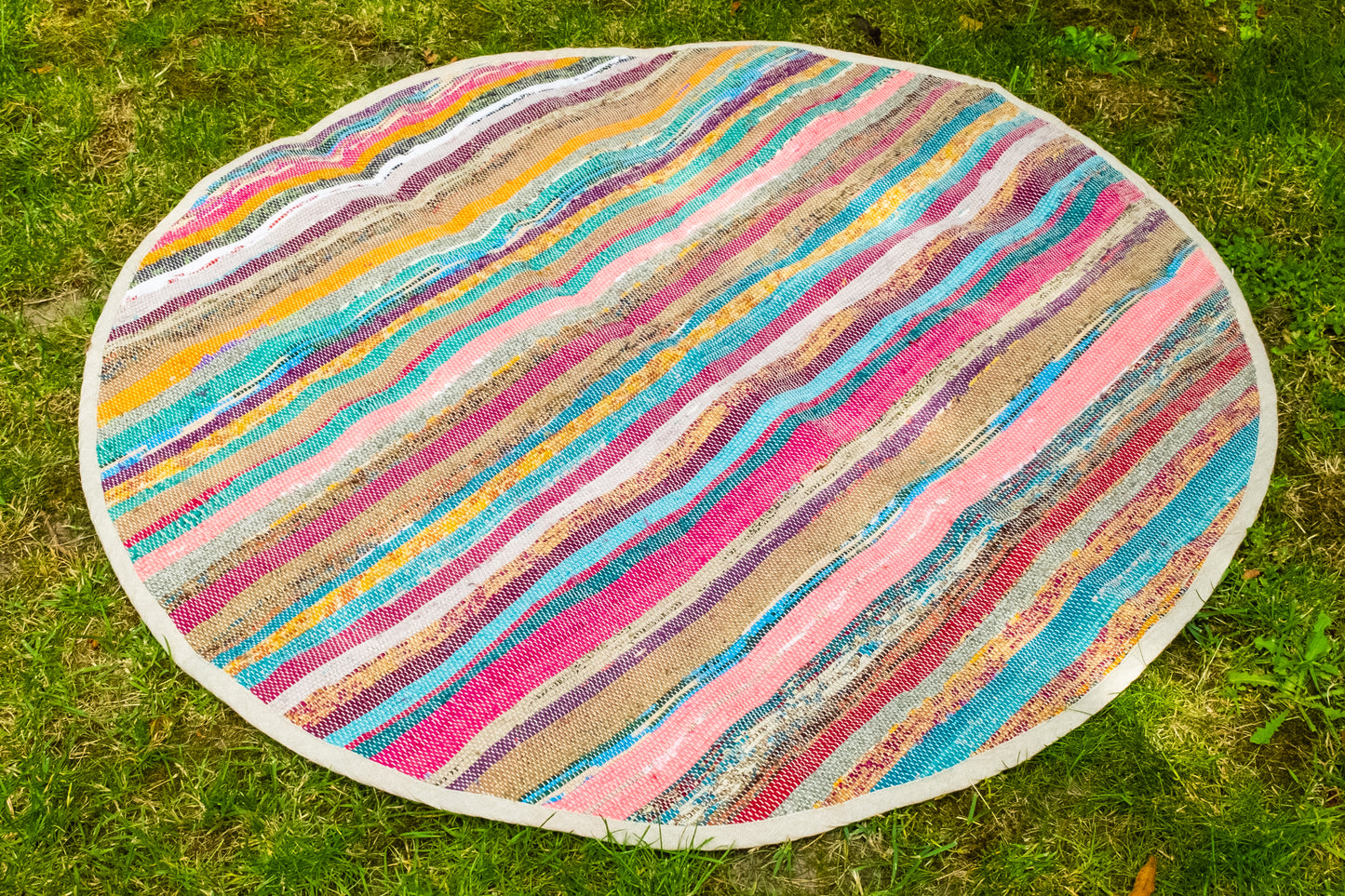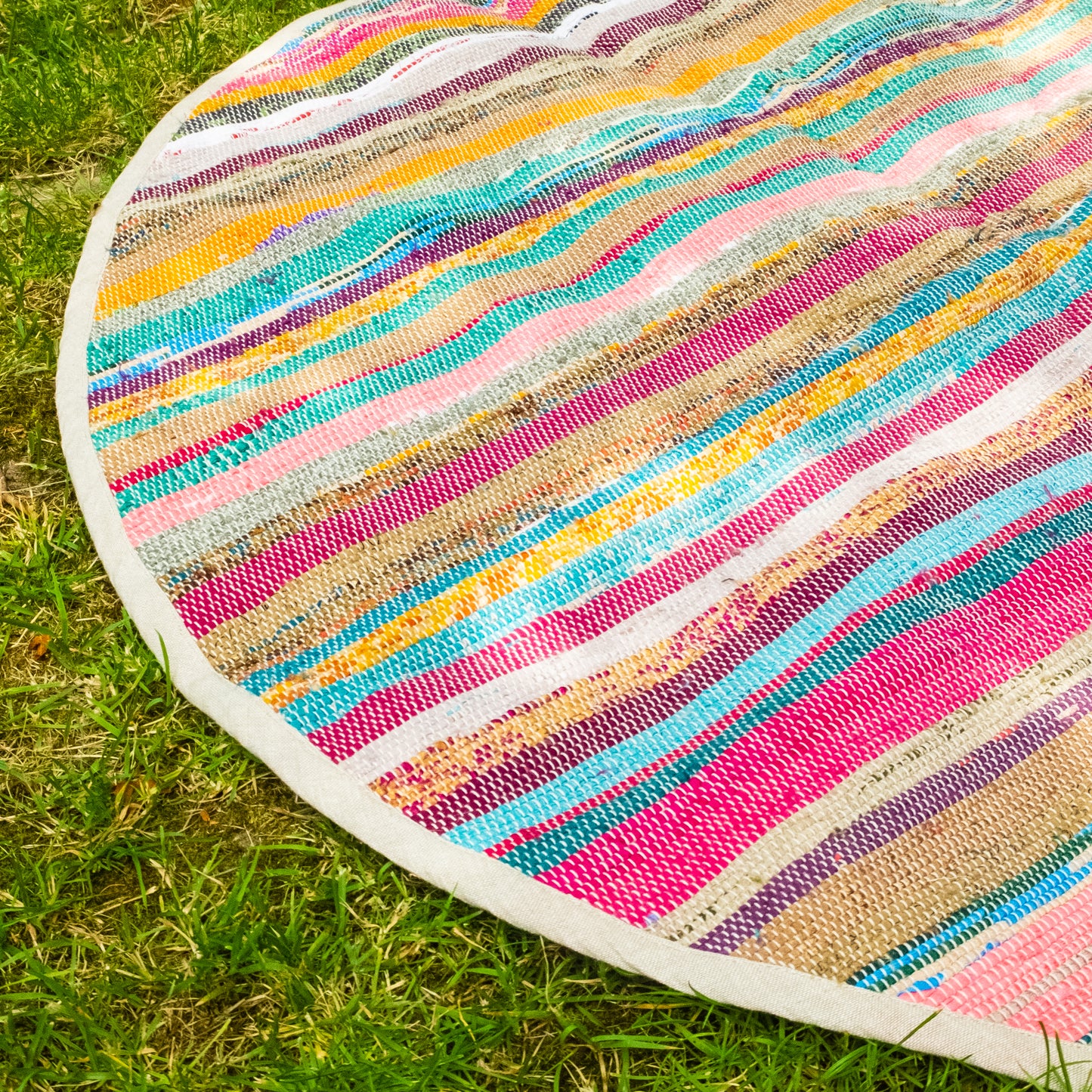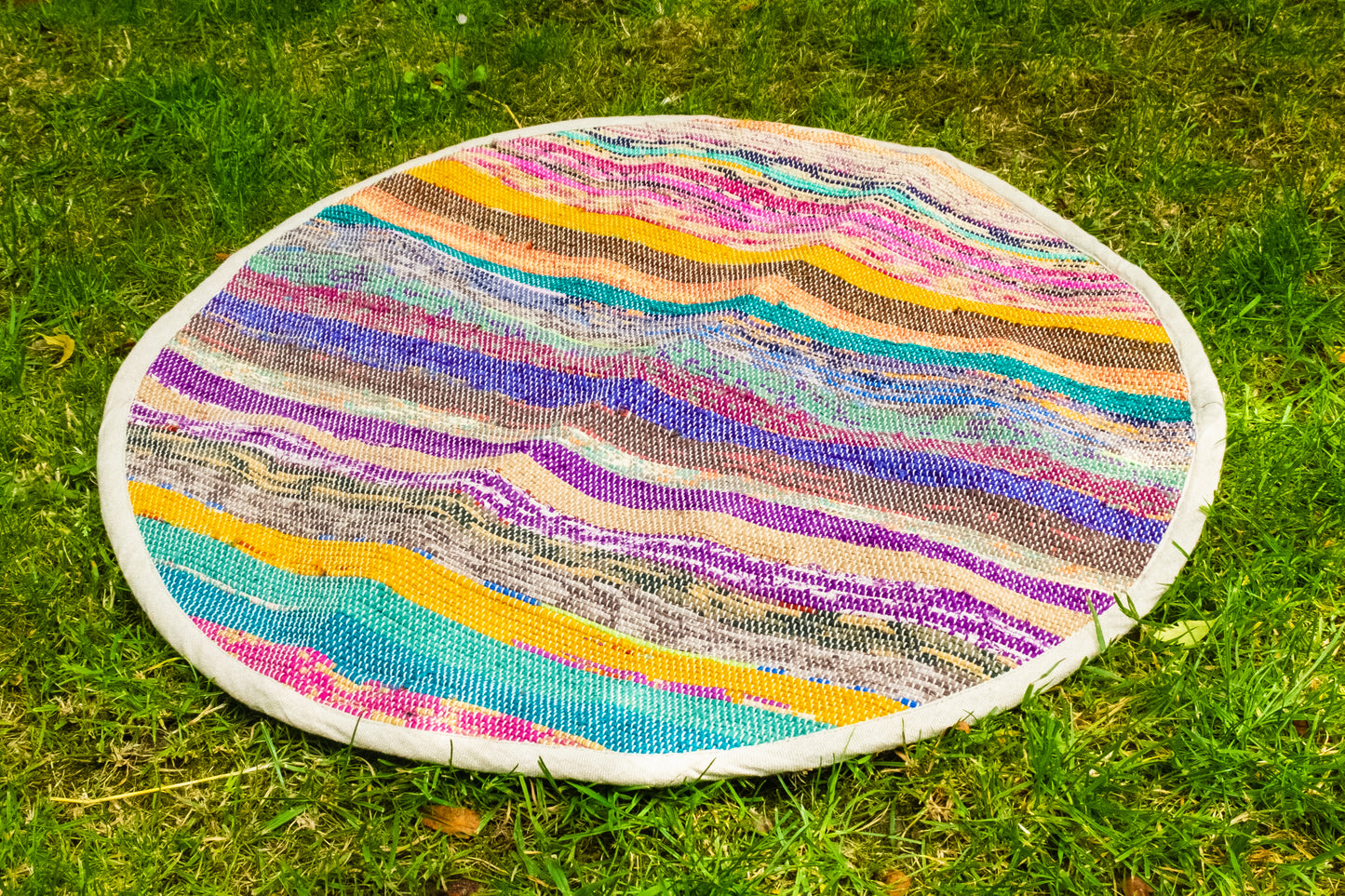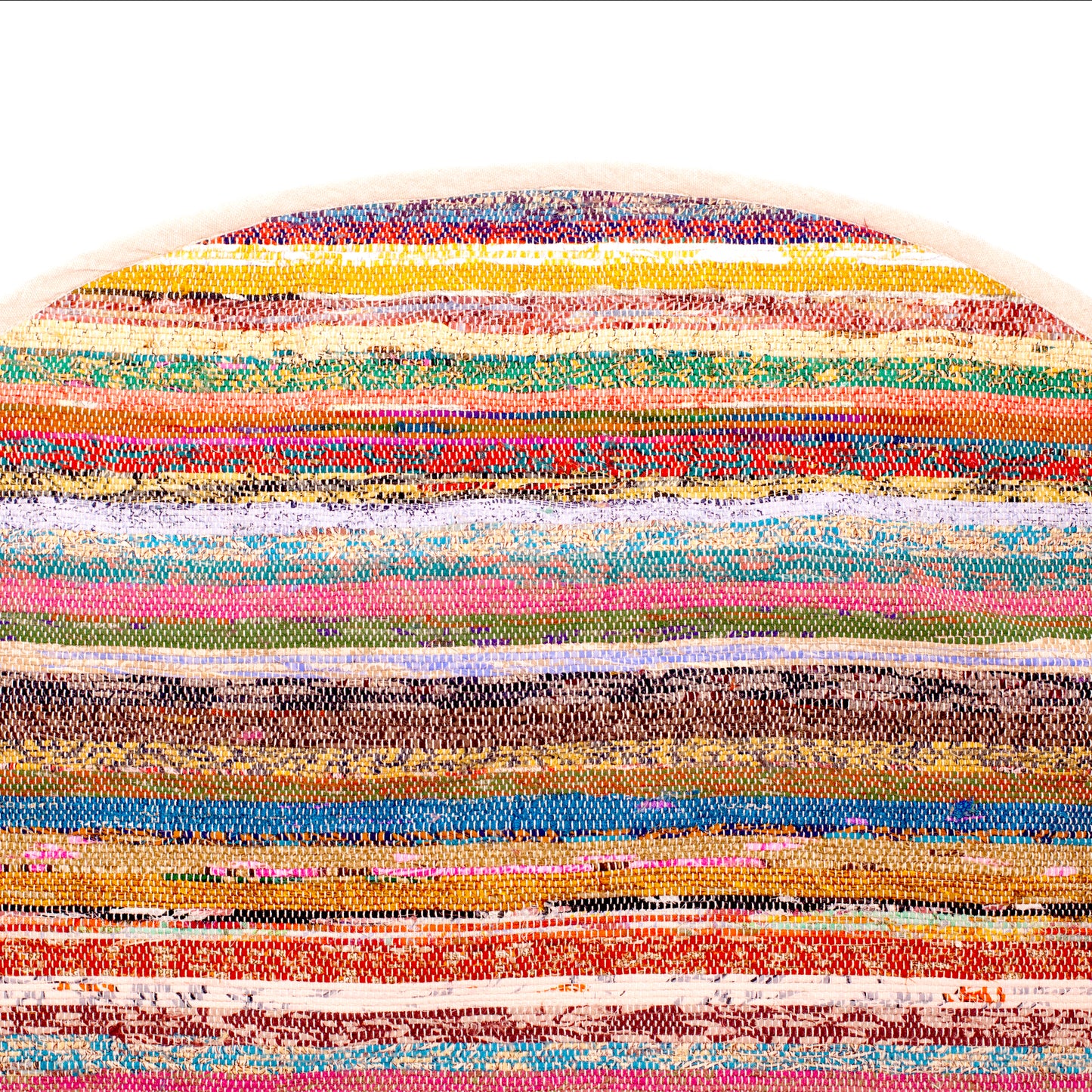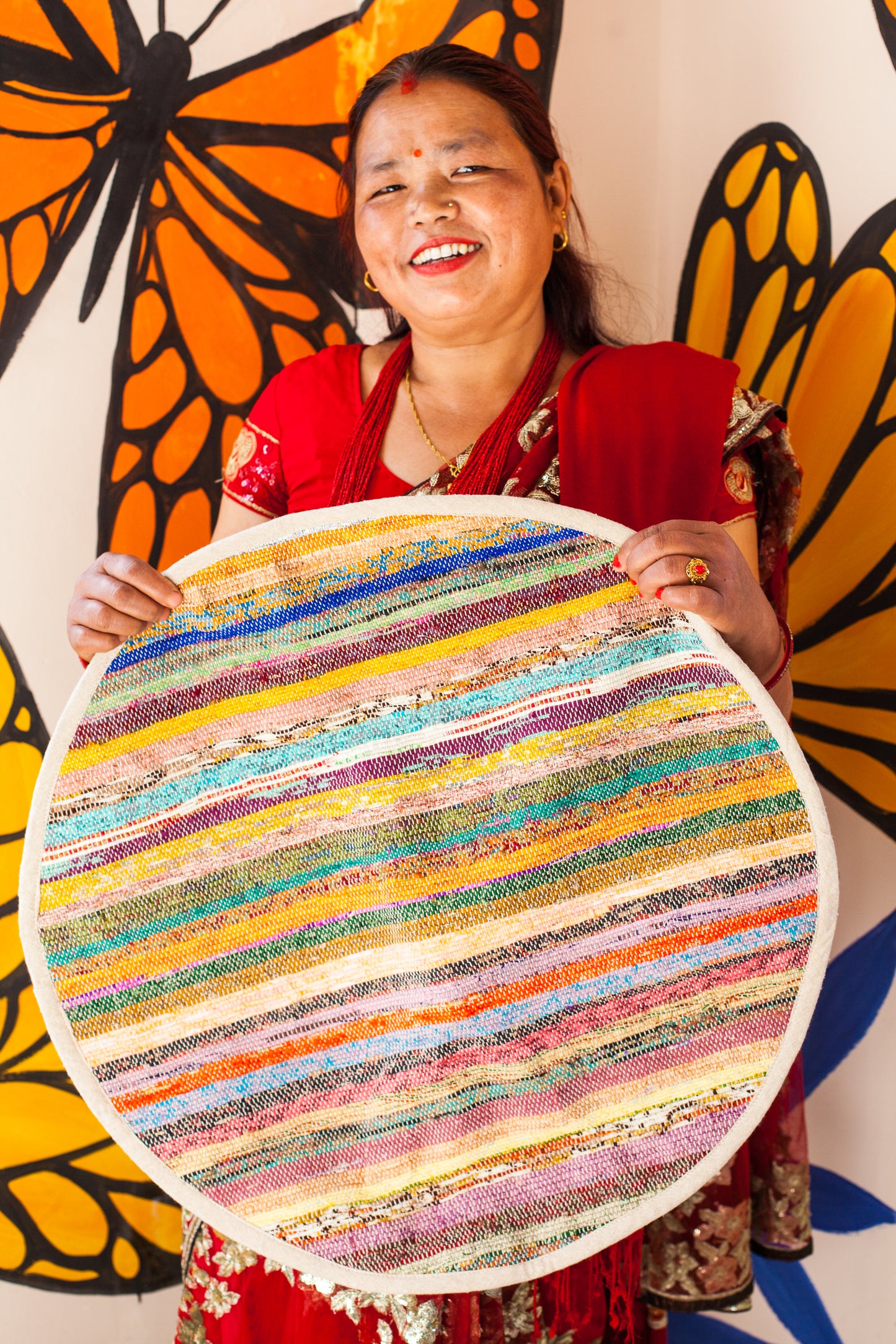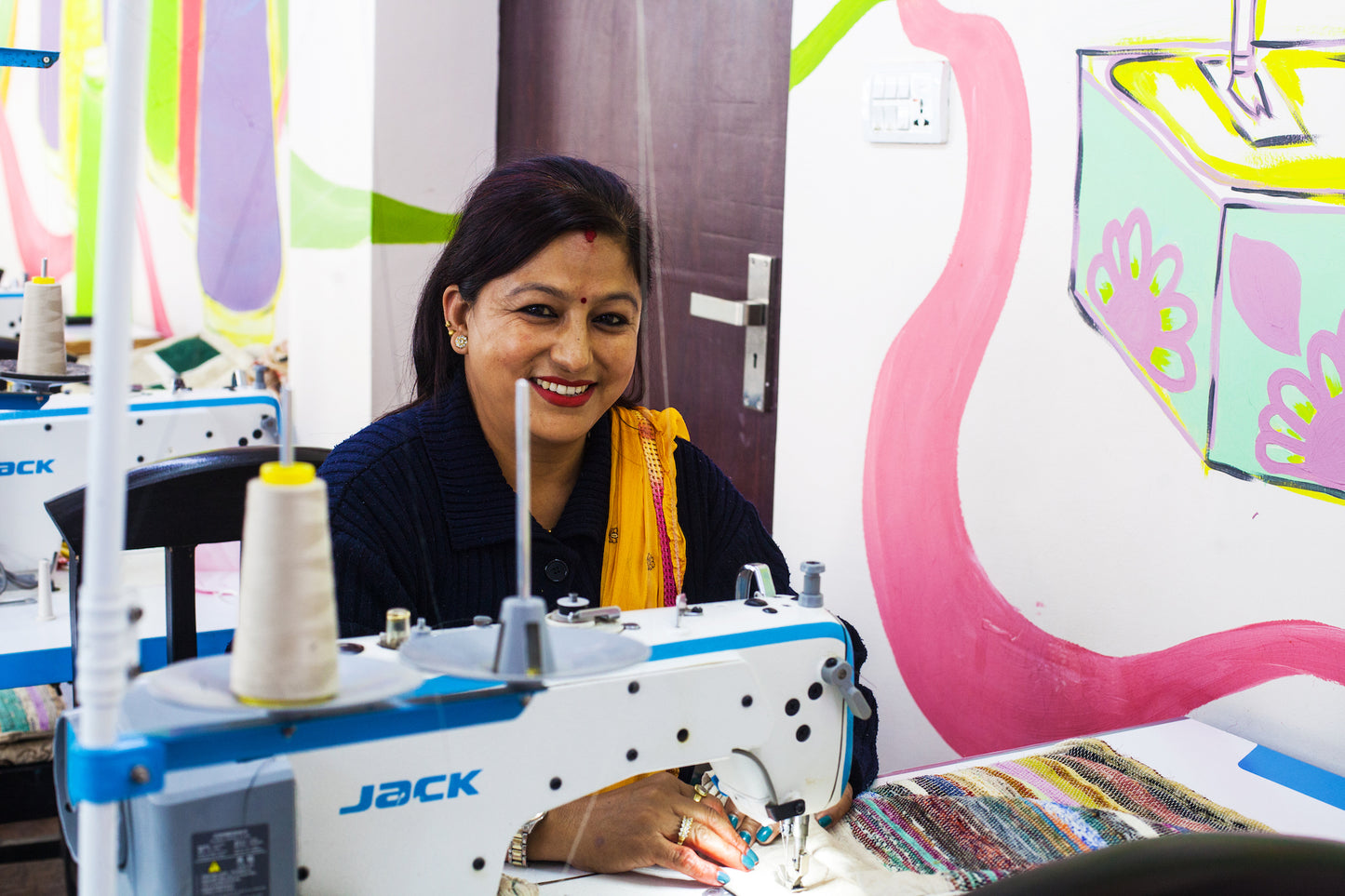 Handmade

This product is respecting traditions and the making process is entirely done by hand. It is handcrafted with love by our women artisans.

Upcycled

This product is protecting Moter Earth and the people. It is eco-friendly, plastic free, cruelty free, chemicals free, and pollution free.

Fair Trade

This product is contribuing to ending fast fashion, sweatshops, child-labor and modern slavery. It is providing living wage to its makers.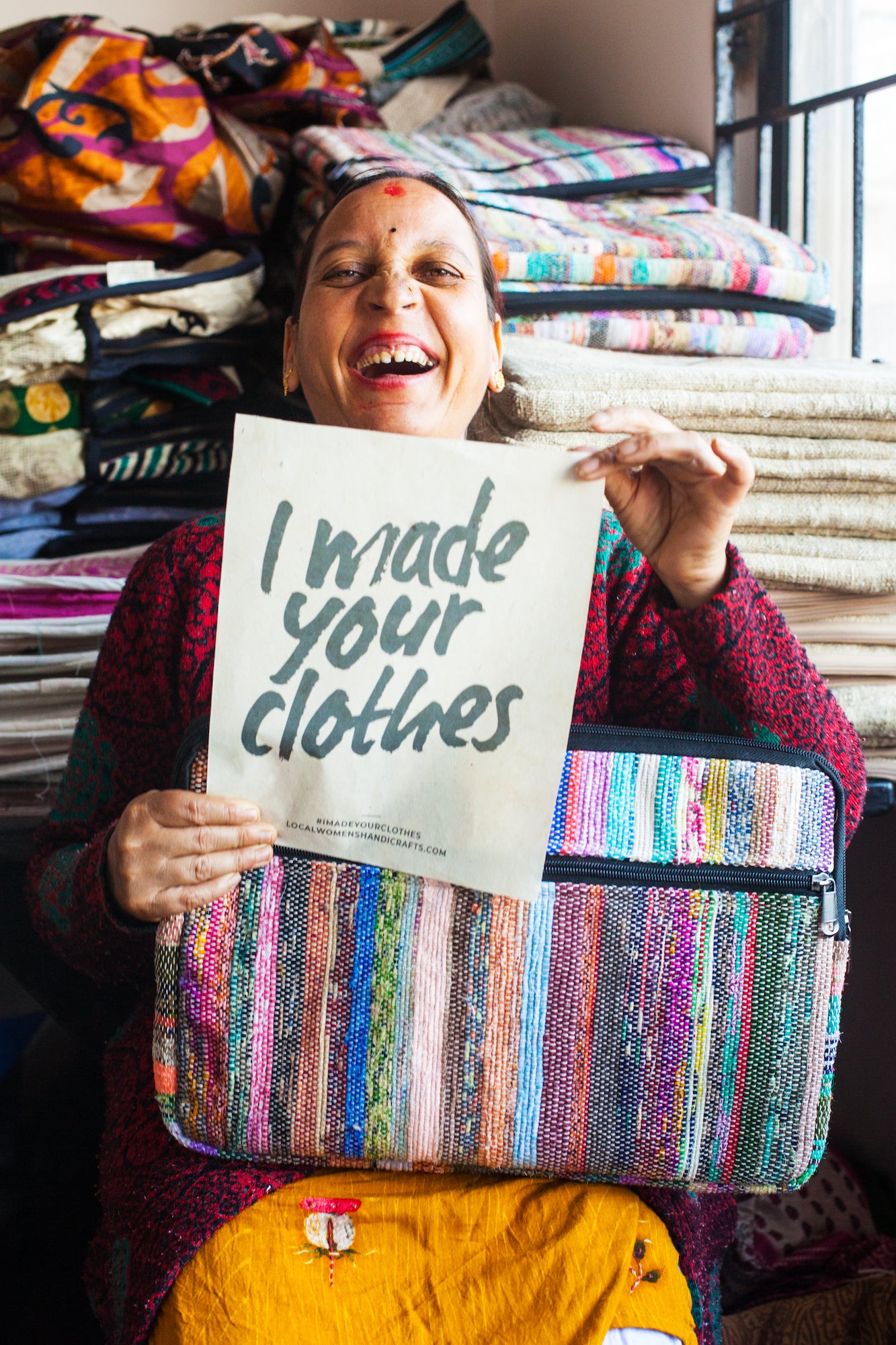 Upcycled Collection
Fashion is one of the most polluting industries in the world. We are buying and consuming products more than ever in our human history. We want to show that responsible consumption is possible by using discarded materials and turning them into beautiful products.
We collect left-over materials discarded from big manufacturers. We wash them 3 times, dry them, iron them and then cut them into small pieces. Using a 1000-year-old technique, we spin them and we woven them on a manual traditional 100-year-old loom that doesn't need any electricity. By working with recycled fabrics we are contributing to making the fashion industry more sustainable.
Each piece is unique and handmade by our women, and has its own unique color palette.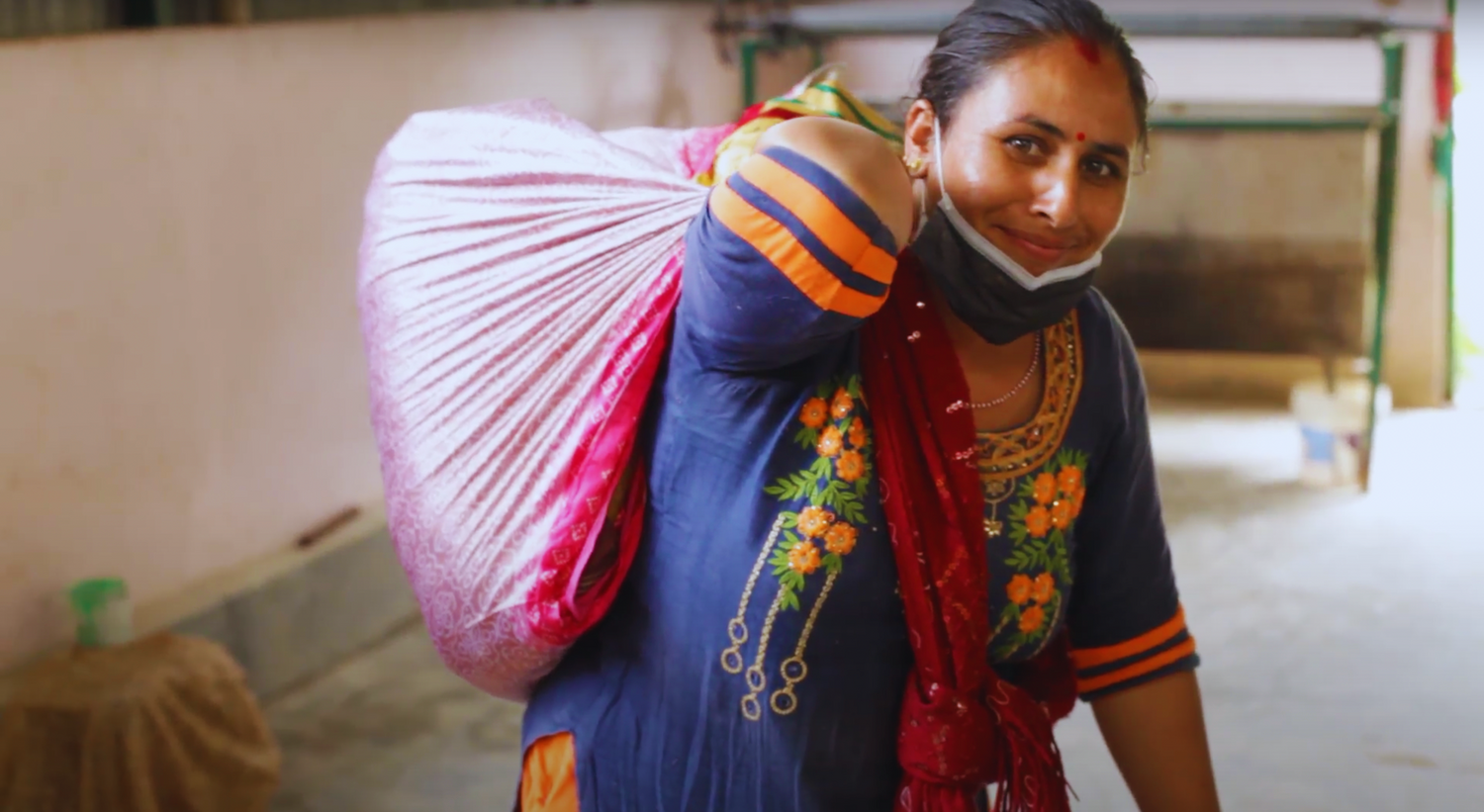 Collecting
We collect left-over materials discarded from big manufacturers, such as traditional silk saris.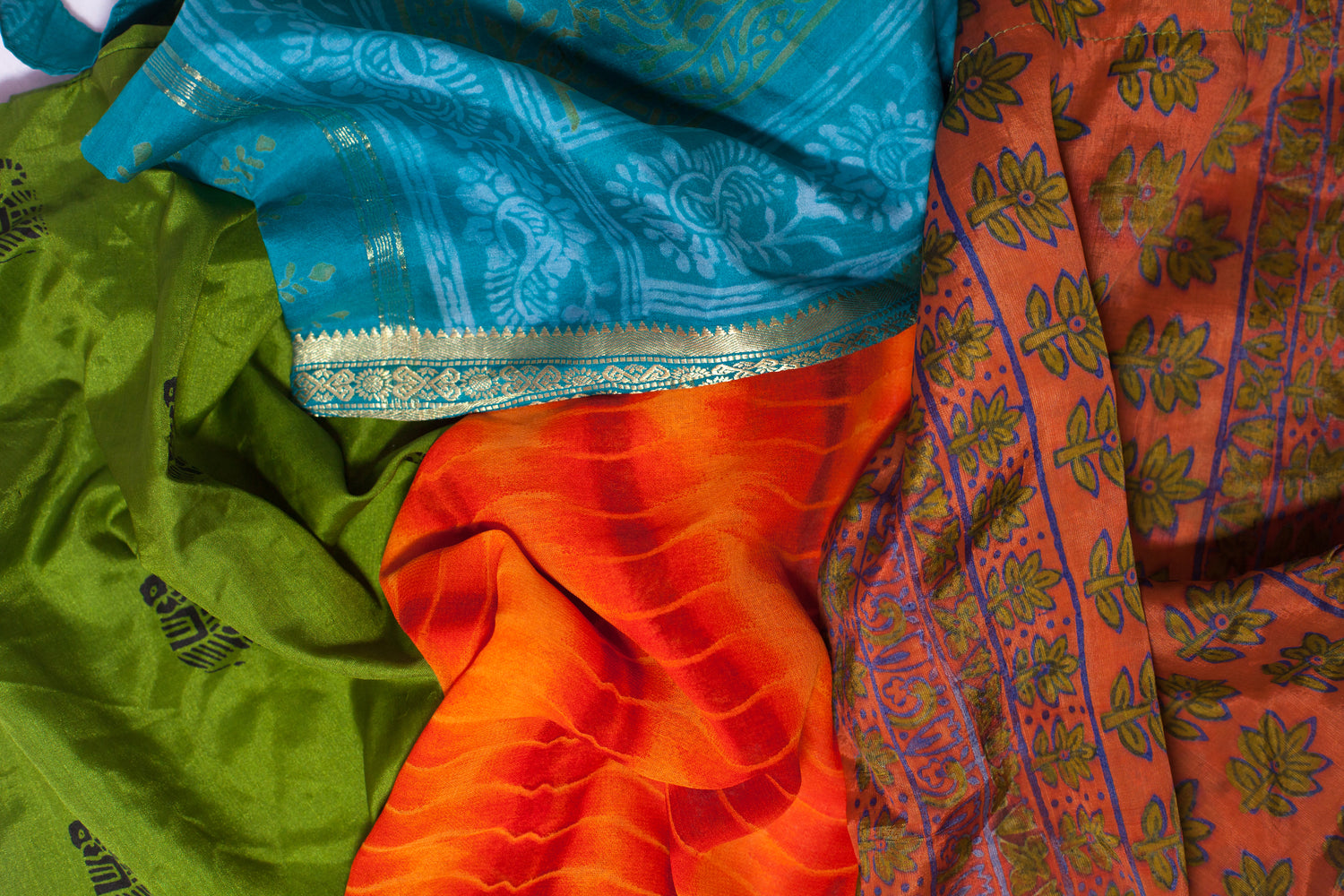 Washing
We bring them to our center and after listing them, we wash them 3 times.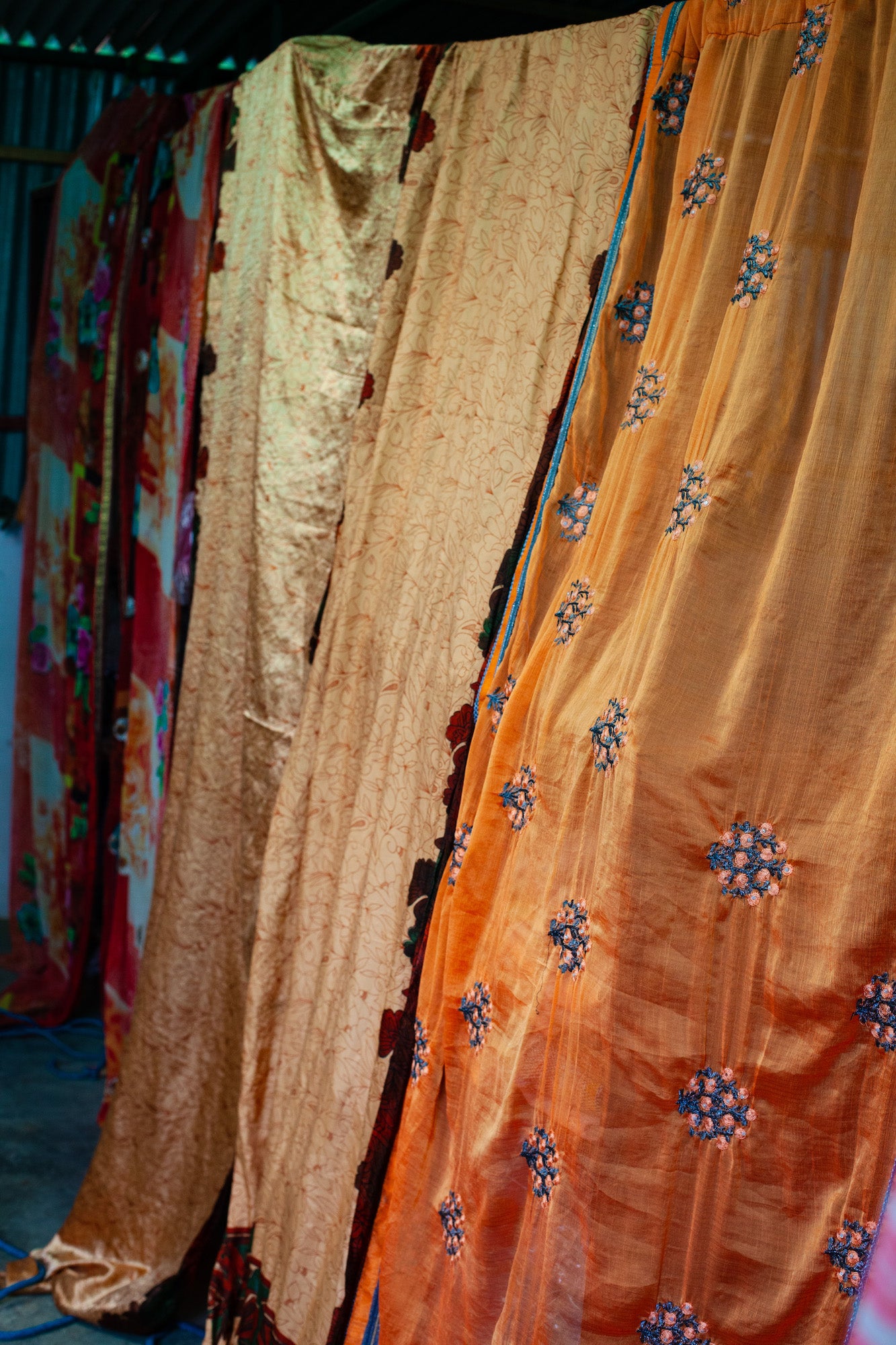 Drying
We then dry them in the sun.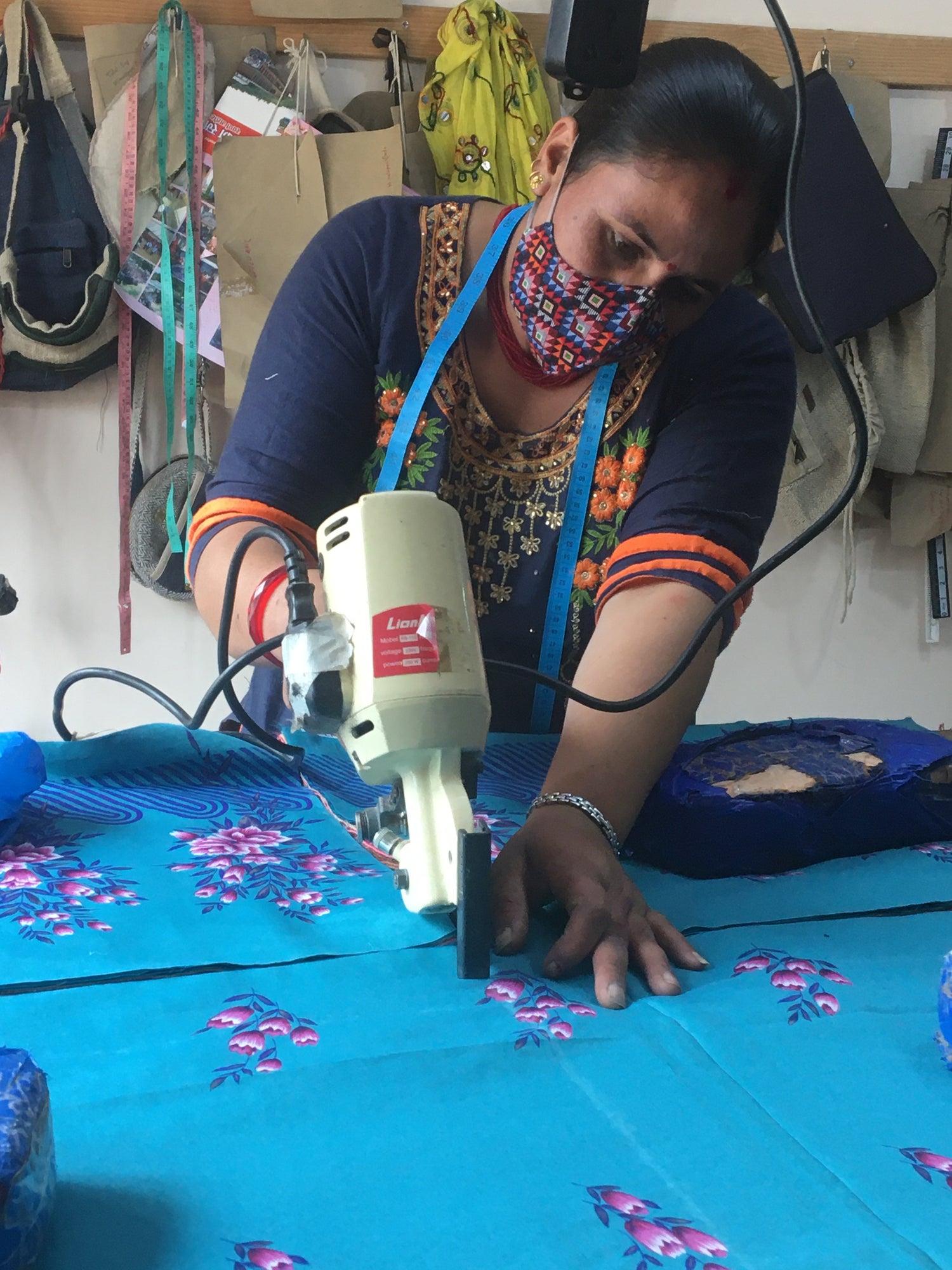 Ironing
We iron them and we cut them into small pieces.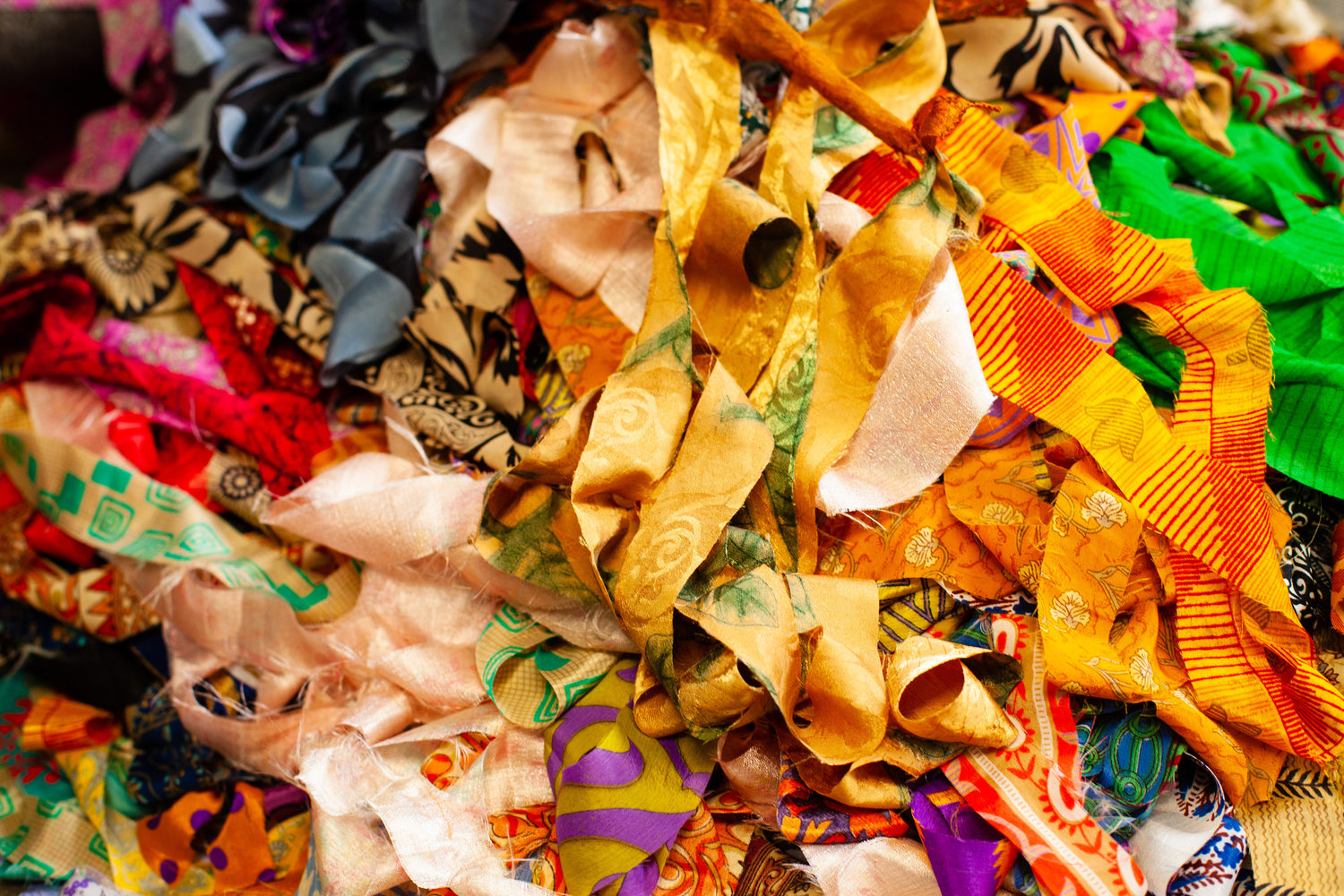 Cutting
The small pieces of fabrics are ready to be turned into yarn.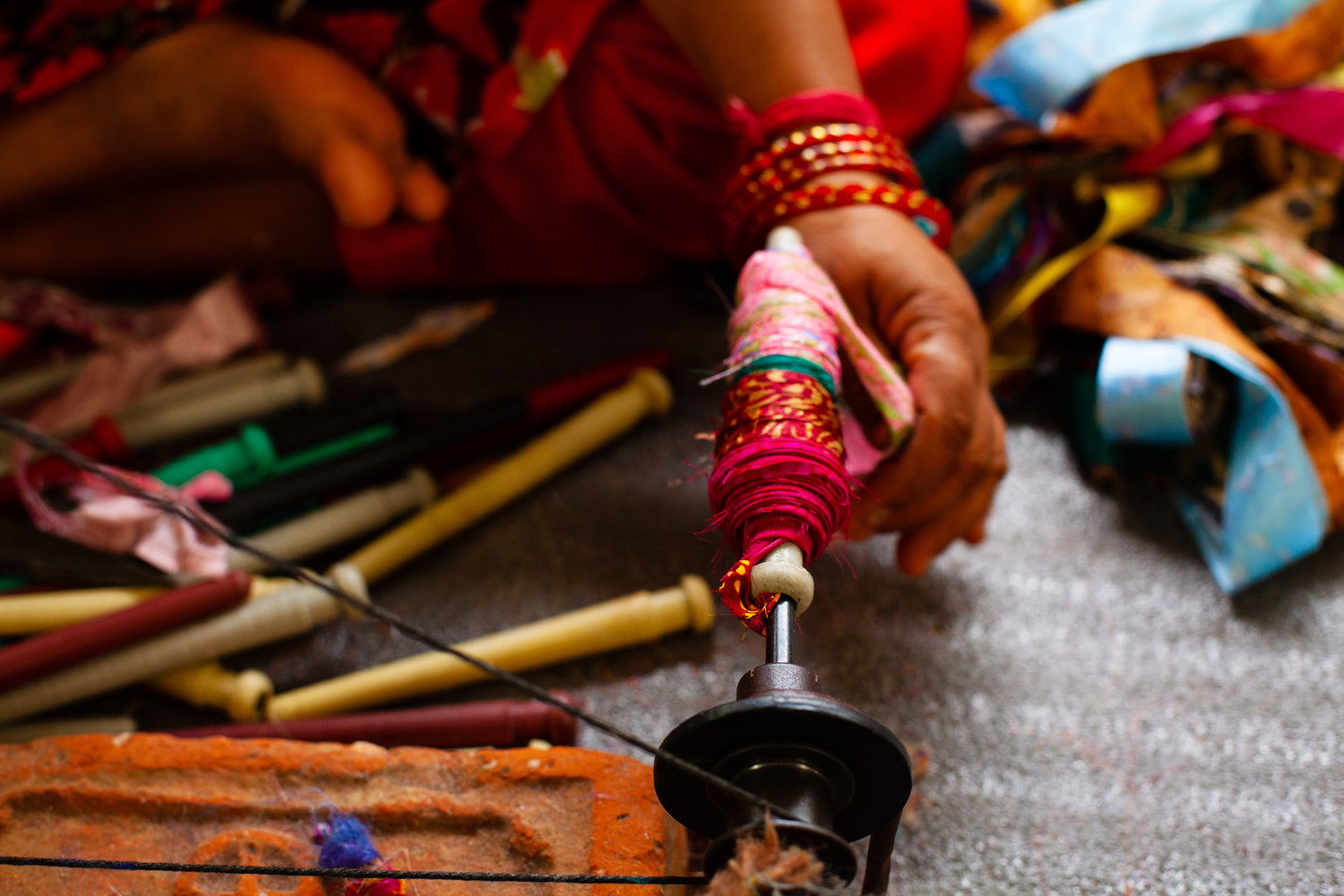 Spinning
We spin the small pieces of fabrics to turn them into yarn, using a 1000-year-old technique.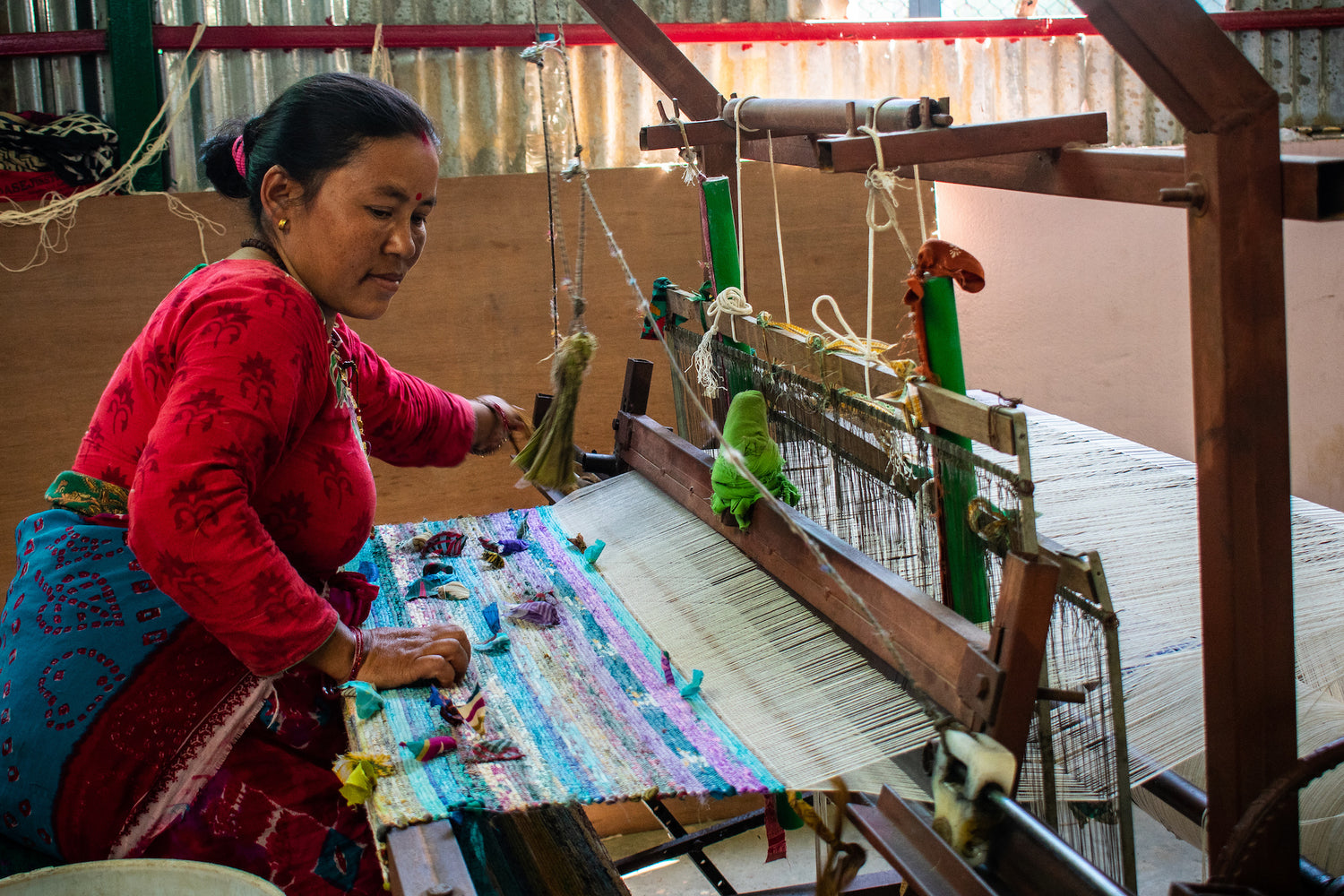 Weaving
We weave them on a manual traditional 100-year-old loom that doesn't need any electricity and turn them into a new fabric.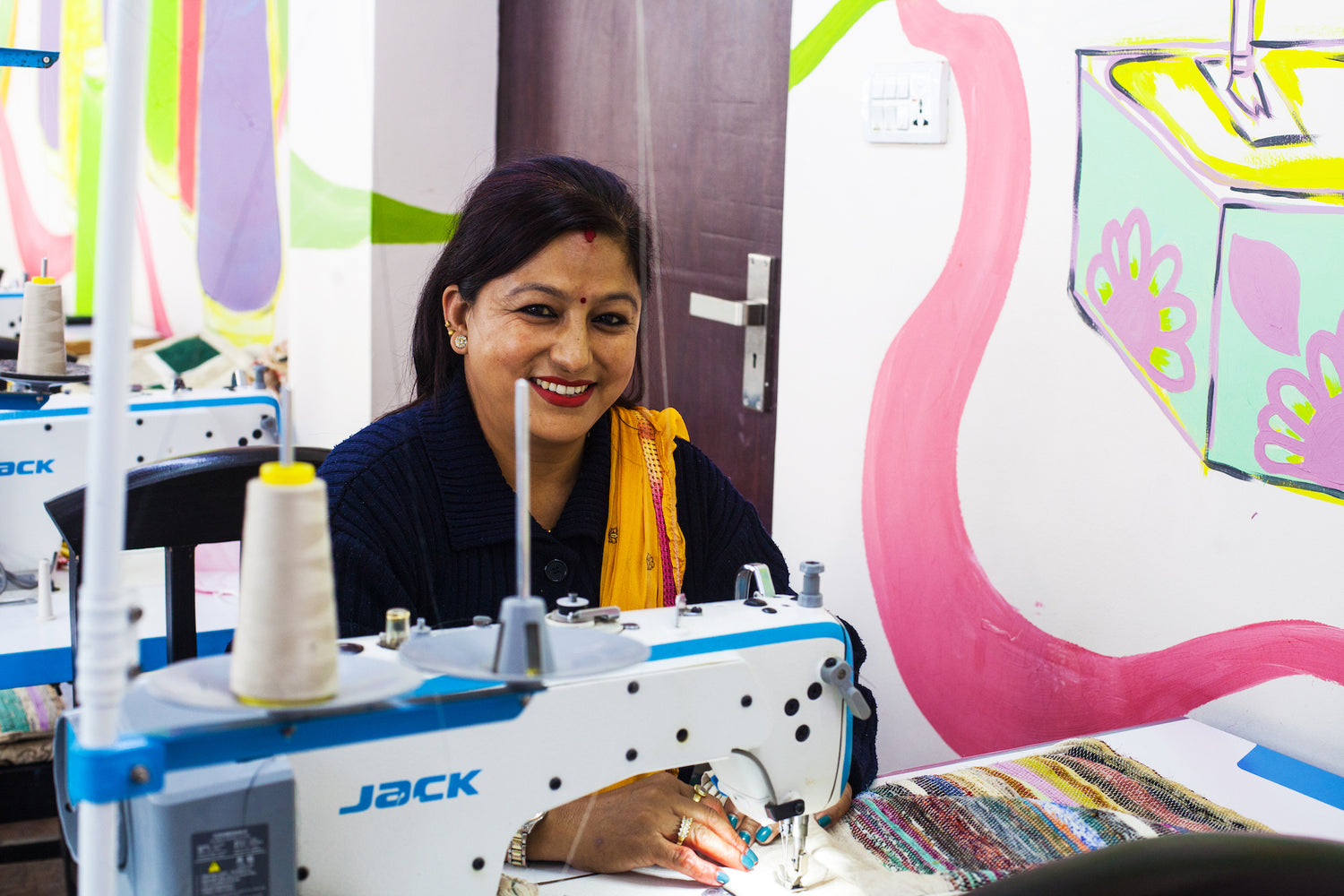 Sewing
We sew the fabric into beautiful unique colorful products, as it is or mixed with organic hemp and cotton.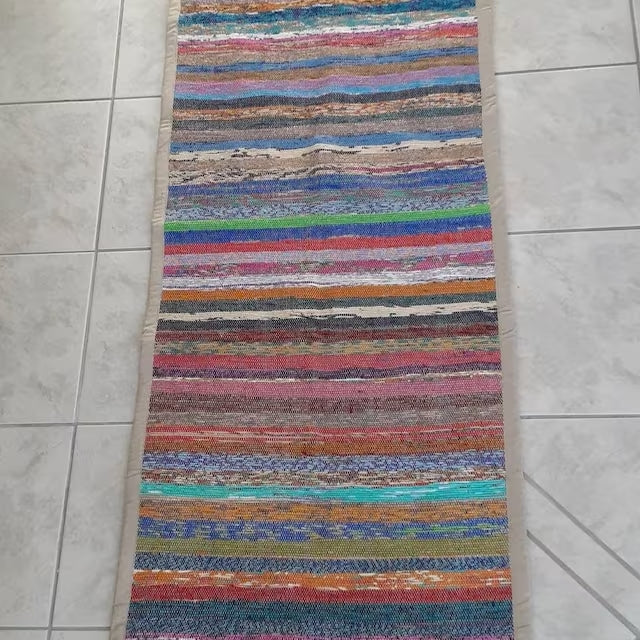 Upcycled Yoga Mat
★★★★★
So beautifully made! Great quality, I'm so happy! The delivery was long, but worth the wait. It is so good to help people and especially women from another country, when you buy something. This is not industry, it's humanity xox

Olivia Dumais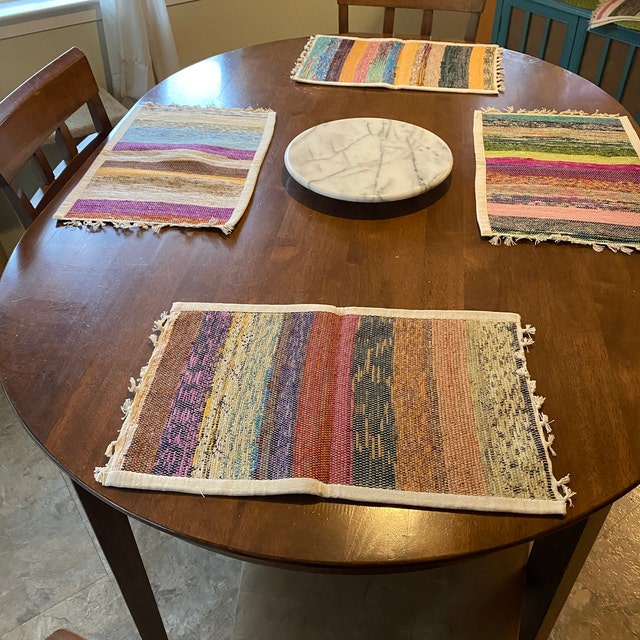 Upcycled Sari Placemats
★★★★★
These placemats were exactly as expected. The colors are vibrant and harmonious. They are well sewn and woven. So happy with them and supporting fair trade! I live in Oregon, so these came nearly overnight! I expect other buyers might have a bit more wait, but they were shipped almost as soon as I ordered them. An impressive job considering all the usual delays we are having right now. Highly recommend, and good luck to you!
Bondia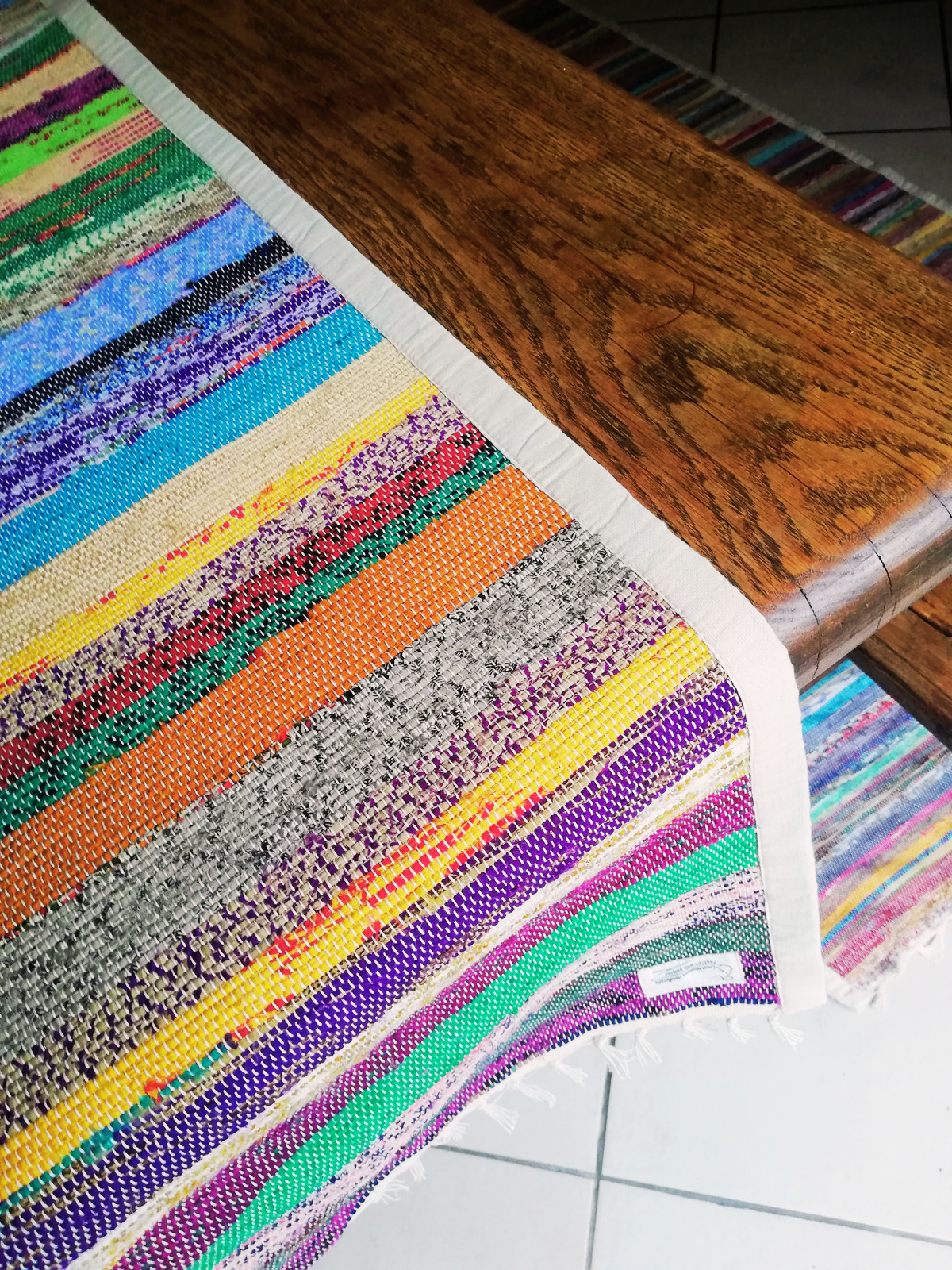 Upcycled Sari Table Runner
★★★★★
Absolutely gorgeous and so well made. Just as pictured and described and quick delivery.
Katie Johnson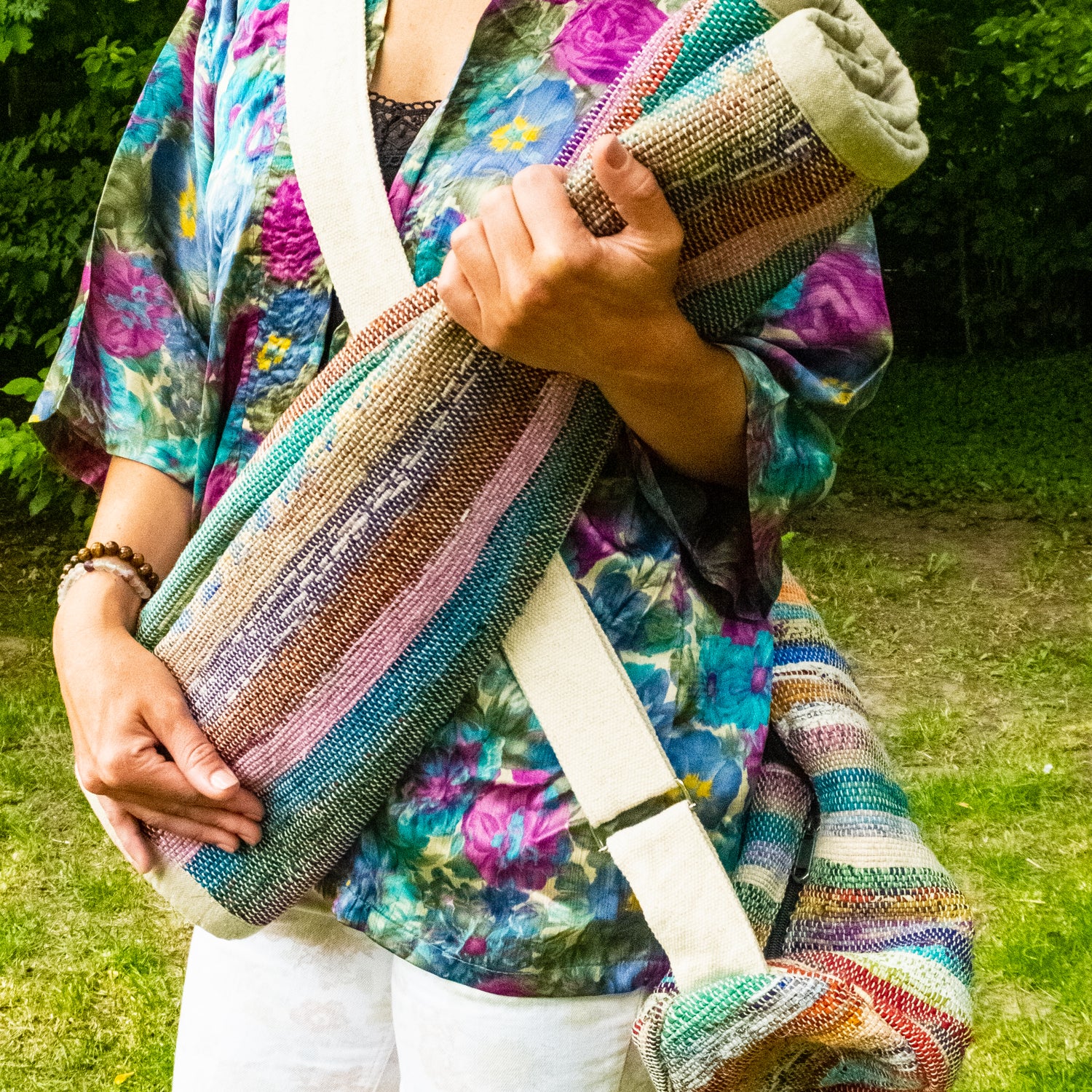 Upcycled Yoga Mat and Bag Set
★★★★★
This is the best yoga mat I've ever bought - it's beautiful and comfortable - nice and soft considering it's made of up-cycled materials. I also feel so good using it instead of a mass produced plastic one. highly recommend!
Sophie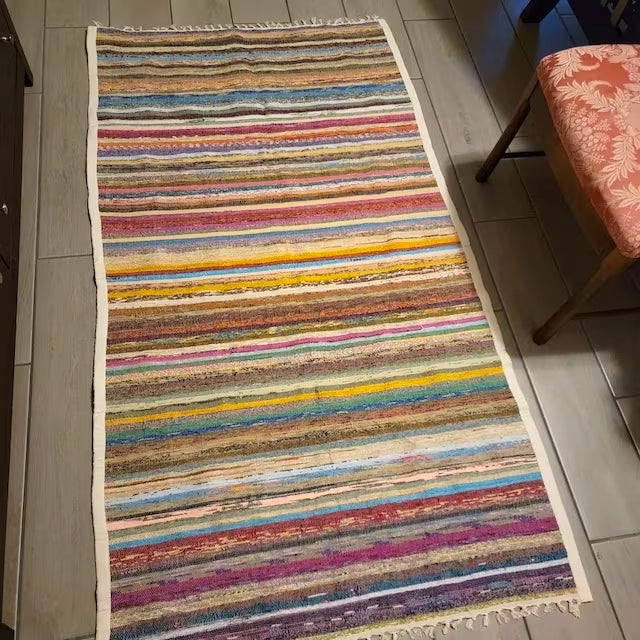 Upcycled Sari Rug
★★★★★
Shipping was very fast. The rug is beautiful and fits perfectly at the foot of my bed. I will be using it as the base for my little zen area for yoga. Clearly made with love, thank you!
Korie Shelton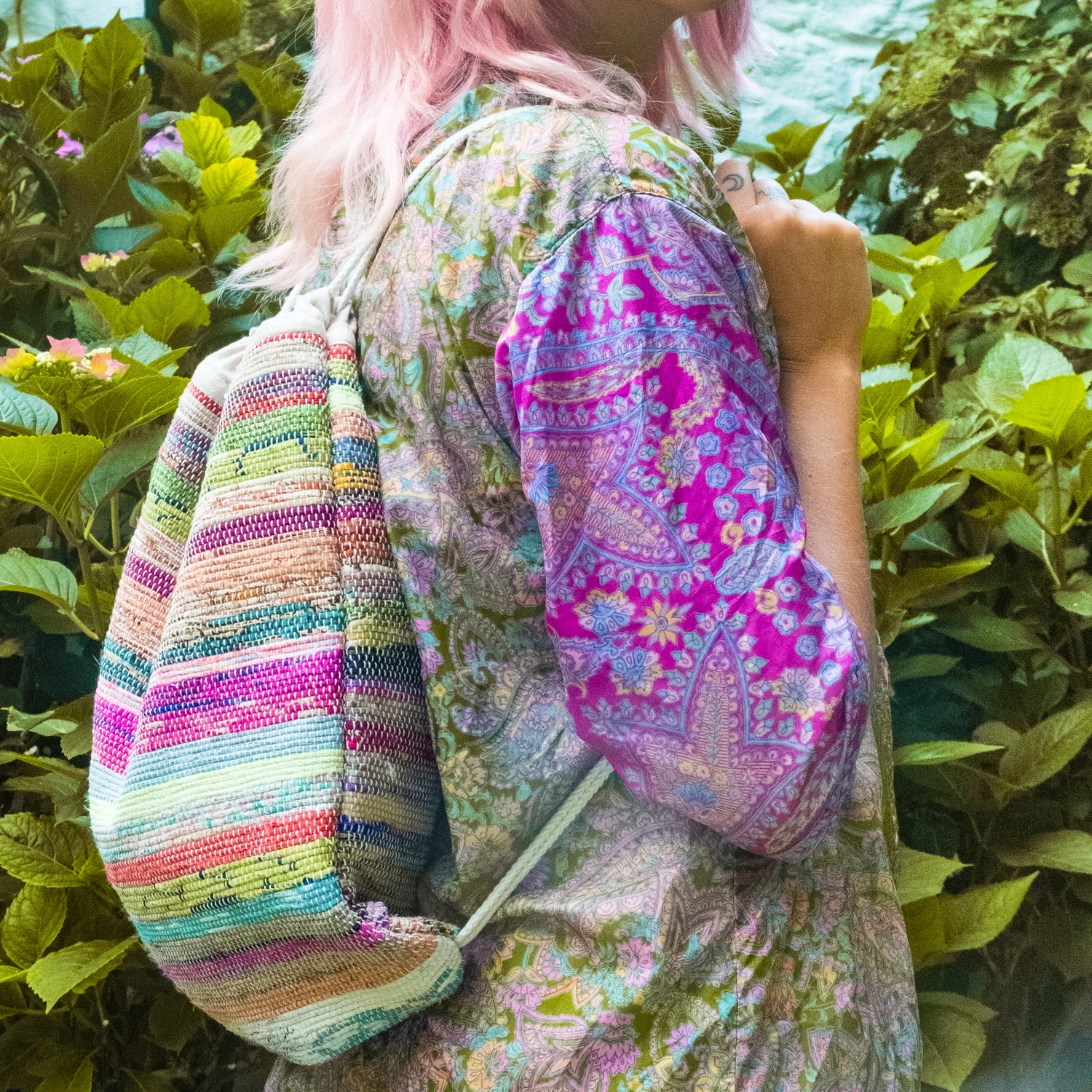 Upcycled Sari Drawstring Bag
★★★★★
Best bag ever, so solid and unique, good finishing, inner lining. I'm in love with it!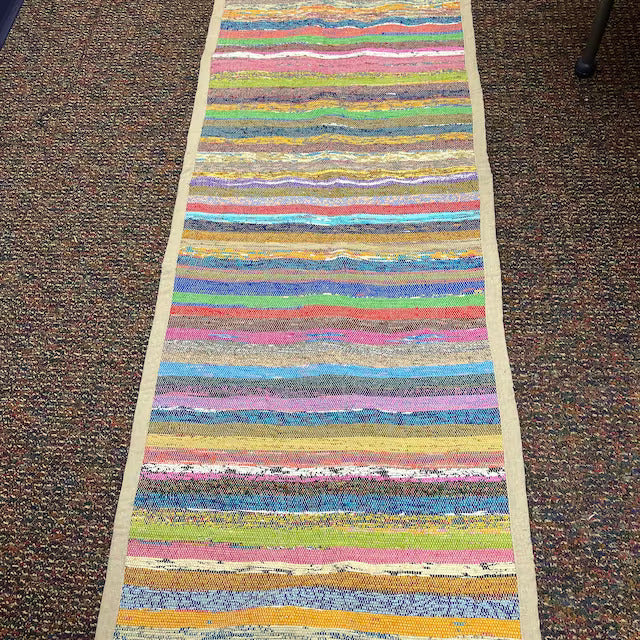 Upcycled Yoga Mat
★★★★★
Perfect yoga mat. It's beautiful and the perfect amount of cushion. It looks nice in my office too, so it's better than a rubber mat laying around.
Mary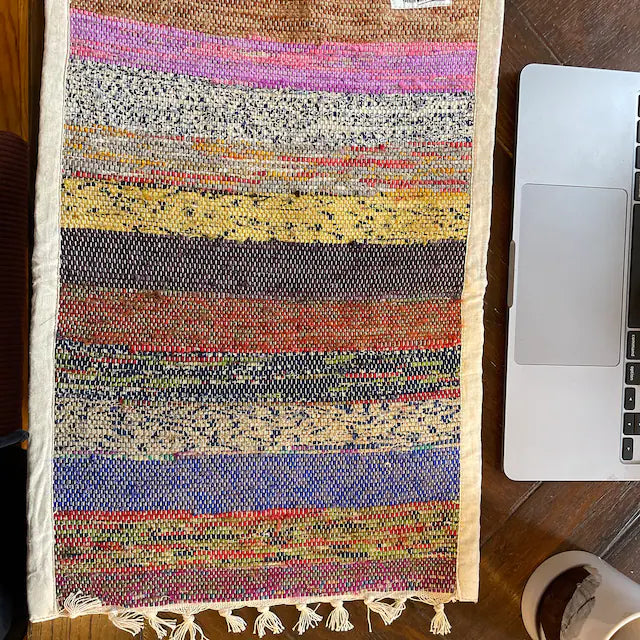 Upcycled Sari Placemats
★★★★★
I just received these lovely placemats and am so happy to have them! They are so colorful and I love that each one is slightly different. They provide a bright pop to my table, both inside and on the porch. The workmanship is very nice and I look forward to enjoying them for many years.
Denise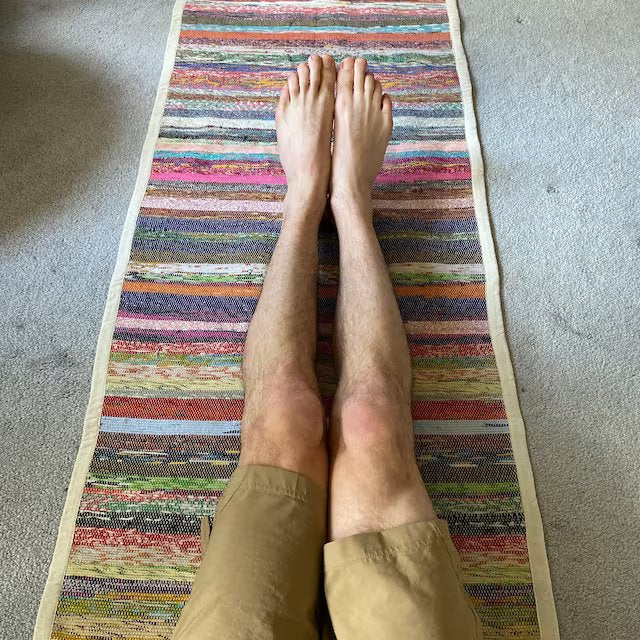 Upcycled Yoga Mat
★★★★★
So happy to have stumbled across this shop. Yoga mat was even nicer than I had imagined. I love how long it is compared to other mats I've used.
Aric Marcille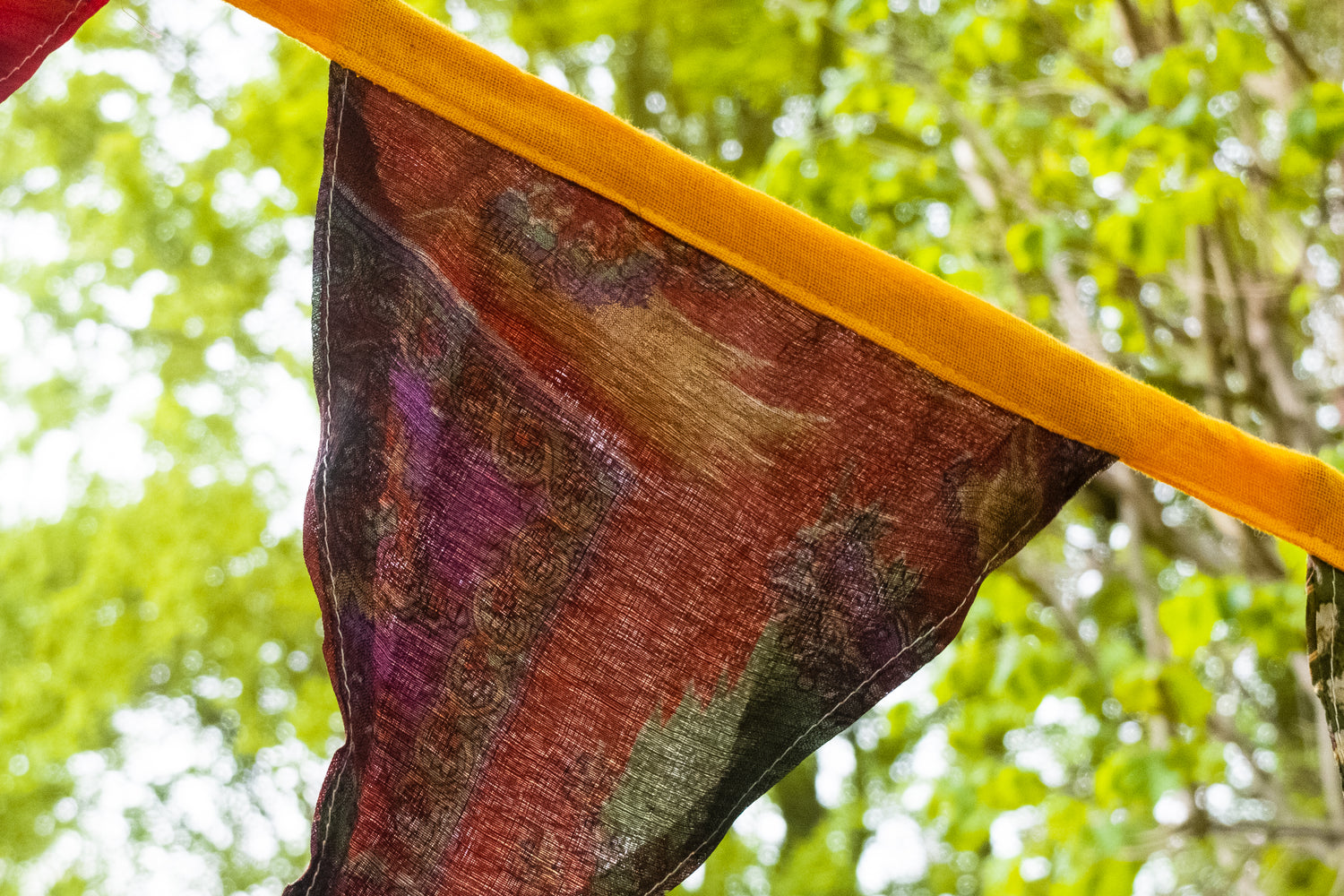 Upcycled Flags Garland
★★★★★
Love these, i got few pieces and they are now sitting in my living room. Loved the shop and the story behind the products. Support small businesses!
Pam
Empowering Women

We supports women and their children by providing them a safe place free from violence and negative social pressures. We work in Nepal, one of the least developed countries in the world, where only 2% of women own businesses.

Sustainable

Through offering skills development in handicraft production and literacy education, we empowers women to generate their own income and support their children in a healthy and sustainable way.

Environmentally Friendly

We grow and harvest raw materials locally and we recycle discarded materials, using 100-year-old looms to weave the textiles and using sustainable production to support
a locally based economy.

Ethical

We're working towards bringing an end to fast fashion, freeing women from sweatshops, and protecting Mother Earth. Handcrafted with love by women coming together to change the fashion industry. We're committed to giving supply chain transparency
to our customers.